We most certainly were hard at work announcing our partnership with Euvic – the investment company Euvic 2030 has decided to support our operations, seeing in us not only professionalism but above all the potential for further development. Watch our video announcement featuring Krzysztof Goworek (CEO of TUATARA) here!
We're All Programmers Now
Read article onHBR
🧙 The entry to the "programming club" is now much easier – all thanks to the wonders of Generative AI. But how enterprises can fully embrace this change? Take a look at this thorough article by Thomas H. Davenport, Ian Barkin and Kerem Tomak on HBR:
Generative AI and other easy-to-use software tools can help employees with no coding background become adept programmers, or what the authors call citizen developers. By simply describing what they want in a prompt, citizen developers can collaborate with these tools to build entire applications—a process that until recently would have required advanced programming fluency.

Information technology has historically involved builders (IT professionals) and users (all other employees), with users being relatively powerless operators of the technology. That way of working often means IT professionals struggle to meet demand in a timely fashion, and communication problems arise among technical experts, business leaders, and application users. Thomas H. Davenport, Ian Barkin and Kerem Tomak
HARVARD BUSINESS REVIEW
Introducing ChatGPT Enterprise
Get enterprise-grade security & privacy and the most powerful version of ChatGPT yet.
Read article on

OpenAI.com
🧠 Big news on the ChatGPT front – OpenAI announced a new tier, alongside its 20$ "Plus" plan, aimed at enterprises, offering higher security, faster responses (to be exact: two faster times), more advanced data analysis options, customization and more:
Since ChatGPT's launch just nine months ago, we've seen teams adopt it in over 80% of Fortune 500 companies. The 80% statistic refers to the percentage of Fortune 500 companies with registered ChatGPT accounts, as determined by accounts associated with corporate email domains. We've heard from business leaders that they'd like a simple and safe way of deploying it in their organization. Early users of ChatGPT Enterprise—industry leaders like Block, Canva, Carlyle, The Estée Lauder Companies, PwC, and Zapier—are redefining how they operate and are using ChatGPT to craft clearer communications, accelerate coding tasks, rapidly explore answers to complex business questions, assist with creative work, and much more. OPENAI.COM
Tricky question: What's the price? Undisclosed, as OpenAI asks companies to contact their sales team to provide more info.
This plan might be a game changer for many enterprises hesitant to use GPT-4 for more business-centred applications – the improved security especially looks like a big plus.
Meta launches own AI code-writing tool: Code Llama
Meta said Code Llama will make it easier to finish code. Read article ontheverge.com
🤖 Staying on the topic of new AI releases – Meta has launched a tool called Code Llama. The great thing about it? It is free for research and commercial uses:
Code Llama, Meta said, can create strings of code from prompts or complete and debug code when pointed to a specific code string. In addition to the base Code Llama model, Meta released a Python-specialized version called Code Llama-Python and another version called Code Llama-Instrct, which can understand instructions in natural language. According to Meta, each specific version of Code Llama is not interchangeable, and the company does not recommend the base Code Llama or Code Llama-Python for natural language instructions. Emilia David
THE VERGE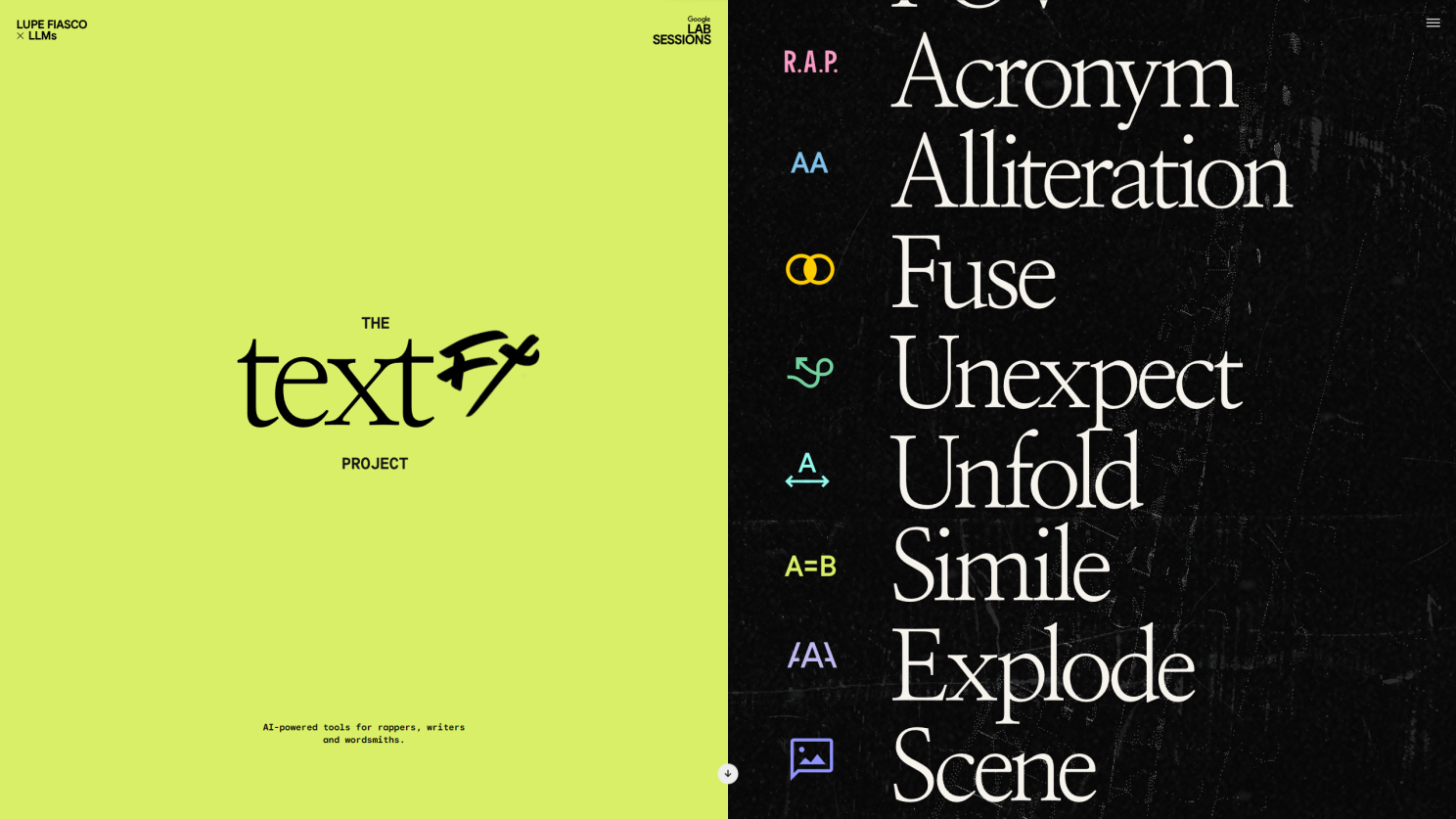 New AI tool by Google – TextFX
AI-powered tools for rappers, writers and wordsmiths.
See more at

textfx.withgoogle.com
✍️ Cool AI tool of the month – TextFX by Google allows writers, rappers and other wordsmiths suffering from writing block to quickly get some mind-refreshing ideas. It gives you the option of 10 different kinds of prompts that can help you, for example, find rhymes, synonyms or create acronyms:
TextFX is an AI experiment designed to help rappers, writers, and wordsmiths expand their processes. It was created in collaboration with Lupe Fiasco, drawing inspiration from the lyrical and linguistic techniques he has developed throughout his career. TextFX consists of 10 tools, each is designed to explore creative possibilities with text and language.

TextFX is powered by Google's PaLM 2 large language model, via the PaLM API. We built TextFX as an experiment to demonstrate how generative language technologies can empower the creativity and workflows of artists and creators. This app is also an example of how you can use the PaLM API to build applications that leverage Google's next-generation large language models (LLMs). TextFX
Google
Police in England installed an AI camera system along a major road. It caught almost 300 drivers breaking the law in its first 3 days.
Police in England installed an AI camera system along a major road. It caught almost 300 drivers breaking the law in its first 3 days.
Read article on

businessinsider.in
👮A few months ago, we wrote about how police are making use of AI and cameras to make streets safer. And it seems it is working, as police caught over 300 drivers breaking the law in the first 3 days: 5.
Police in England installed an AI camera system along a major road — 72 hours later, it had caught almost 300 drivers breaking the law. After 5 more days, that number rose to 1,000. The police force in Cornwall, a county in the south of England, recently began trialing an AI road safety camera system to detect offenses like drivers not wearing their seatbelts or texting while driving. Made by AI technology company Acusensus, the system flagged nearly 180 seat-belt offenses and 117 mobile phone offenses, Vision Zero South West, a collaborative project between several organizations in the region including police, stated in a press release. Kylie Kirschner
BUSINESS INSIDER