Leon – an innovative digital assistant supporting customers
TUATARA implementation of Actionbot for Generali Poland, a part of one of the largest insurance and asset management groups, was mainly about improving customer service and increasing consultants work efficiency.​ It only took us around a month to turn Generali's needs into a working proof of concept on their website.
What were the business goals of this implementation?
Improving communication with customers,
Automating processes (FAQ automation, claim processing, choosing the insurance policy, etc.),
Decreasing the number of calls to the call centre and conversations with the consultants on the chat.
By combining Generali's needs and our Actionbot's functionalities, we came up with a solution. Leon is a virtual assistant that focuses on comprehensive customer support 24 hours a day. The chatbot answers customer questions from three areas: claims, service policy and sales. Leon can converse on more than 140 different topics. As for more complicated inquires, the chatbot directed the customer to the agent for a quick resolution. It is based on artificial intelligence, machine learning and NLP algorithms, supported by the IBM Watson engine. The chatbot embedded on Generali's website is available both from a desktop and a mobile device.
Also, we designed Leon's dialogues to meet customers' needs. For example, its user-friendly interface allowed customers to simply open the chat window, ask questions, and receive an answer immediately.
Main results of Actionbot's implementation for Generali
One month after the implementation, the number of interactions with the chatbot was 2,5x higher than with the consultants before. Consultants used to handle 70-90 calls every day, and Leon handles 150-200 daily interactions with customers while consultants' workload has been reduced to 5-20 calls per day.
After a month of Leon's activity on the website, the customer service decided to shorten their work hours by 1 hour per day. Generali decided to direct their knowledge into more complex queries. It was the first step in increasing customer service efficiency, which ended up in saving 120 manhours monthly.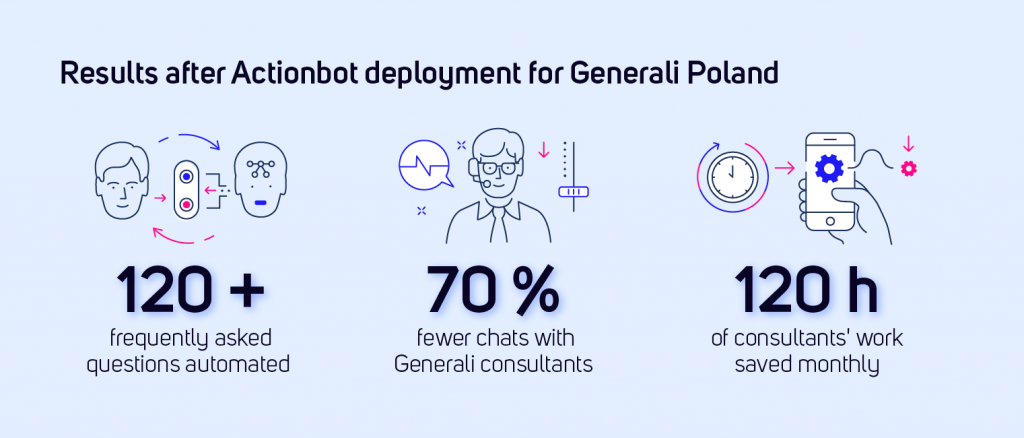 Leon, a result of TUATARA's cooperation with Generali Poland, received a prestigious award from Gazeta Bankowa. The main goal of TechnoBiznes is to show the important role of technology in companies' operations and gain a competitive advantage. Leon took second place in the Lider 2020 competition in the Insurance and other financial institutions category.
What are the next steps?
We believe that our collaboration on chatbot and AI projects will bring both clients and employees a new technological experience to facilitate their daily operational work and improve customer service satisfaction. TUATARA is more than happy to be a part of such a plan.
Our plans for the future are very ambitious and long-term. We strive for a fully self-service bot that will be a fast, mobile and interactive version of the customer portal. With its help, you will be able to find out everything about your policies or claims, or have your data changed. Piotr Bułka
MEMBER OF THE BOARD OF GENERALI POLAND
If you want to know what the future will bring for TUATARA, follow us on our social media channels!