Actionbot meets ChatGPT – closer to the customer across all channels
Some of Actionbot's greatest strengths are its flexibility, ability to deal with internal data sources, understanding different languages and, perhaps most importantly, ability to guide a customer through a given communication channel. Actionbot can suggest visits to websites, present instructional videos to the user, lead the conversation, and streamline the customer's journey from initial visit, to purchase, to self-service or complaint. With the information gathered, our AI chatbot can automatically complete a form, help make a payment or purchase a product for a customer with just a few clicks. Furthermore, it can also suggest additional services or redirect the customer to an actual consultant for the most difficult cases.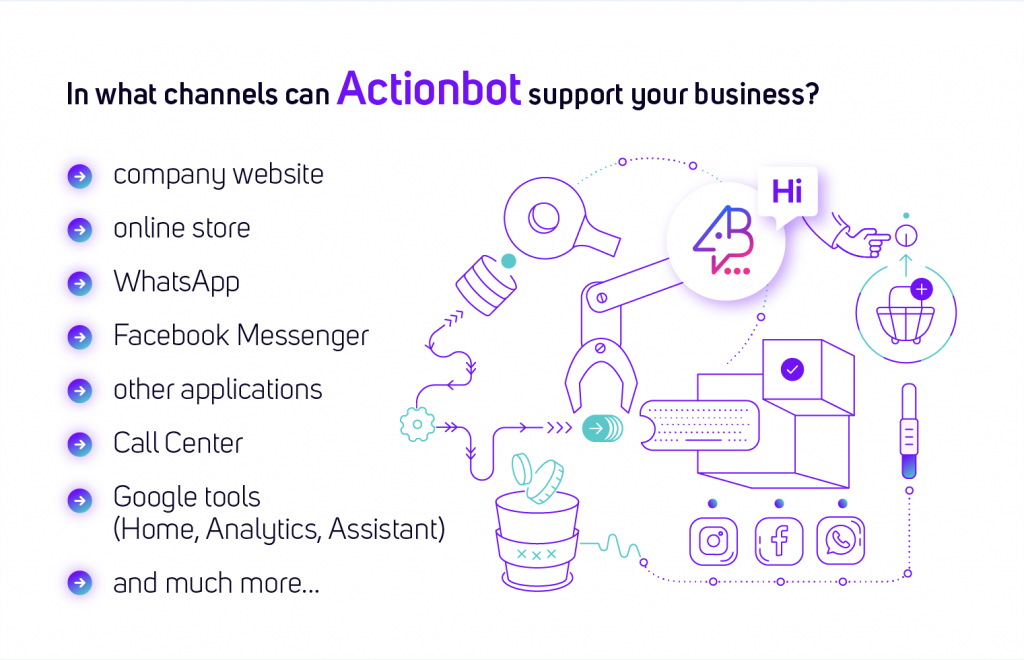 With the rapid development of GPT (Generative Pre-trained Transformer) technology, it became clear that its application could expand Actionbot's conversational capabilities, making it an even better customer advisor. So, we combined Actionbot's ability to use collected data (e.g., from CRM or transactional data) and knowledge about the company's products, observation of customer behaviour, tailored recommendations, with the ability to have an almost natural conversation in ChatGPT. The smartest AI chatbot on the market became even more human-like.
The introduction of GPT technology into Actionbot is a natural step in the development of our digital assistant. Today, we are combining response automation with text comprehension and generation, expanding conversational capabilities, bringing the customer experience closer to interacting with real people, without losing what is most important in Actionbot – the full implementation of business processes through conversational mechanisms.
Context is the king
In the first quarter of 2023, together with the consulting studio STYLESPOT, we have launched Actionbot on the premium fashion brand LANCERTO's channels. The chatbot, named "ARI", will be able to conduct a natural conversation with customers and, when the moment is right, point to a specific garment or provide information about the shopping process. As a result, online shopping has not only become easier but also more enjoyable for LANCERTO customers. As LANCERTO's representatives say, the implementation of the chatbot can increase the conversion rate by up to about 70 per cent.
However, we wanted Actionbot not only to help build business, but to become for LANCERTO customers the equivalent of a real stylist, an advisor who will also help with other matters, not necessarily concerning the shopping process itself. Just a few months after implementation, ARI will gain a new capability – the ability to have a natural conversation.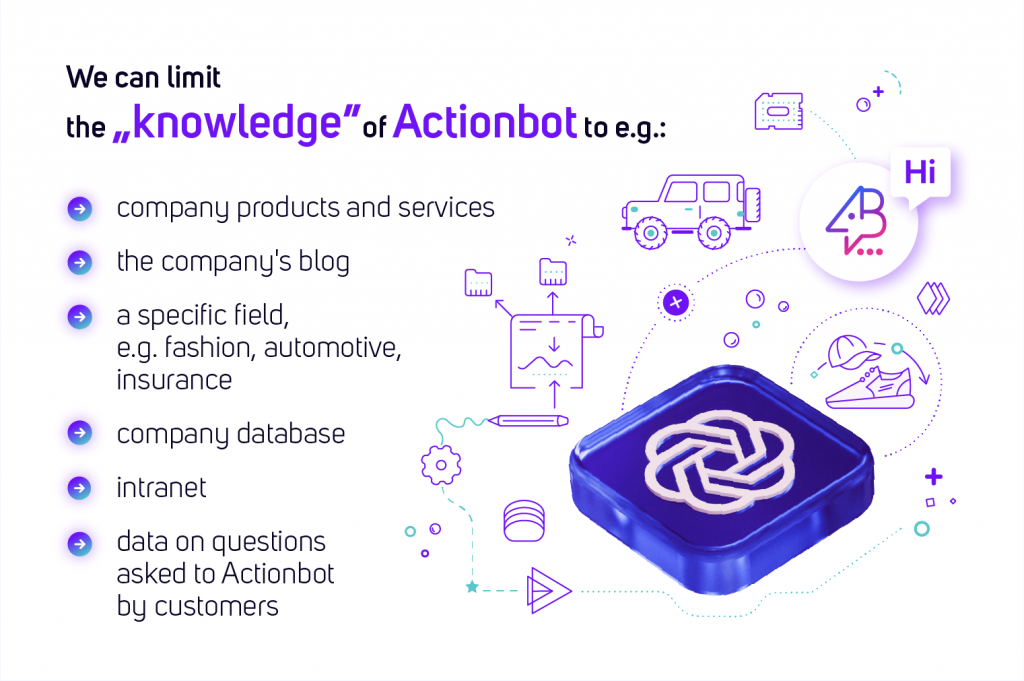 One of the biggest problems with the direct use of ChatGPT in customer service is the tool's propensity for so-called hallucinations. In the event of an inability to generate a correct answer, ChatGPT confabulates or gives answers that are simply untrue. What's more, simply implementing it into communication channels can lead to ChatGPT giving answers that are unclear or, worse, untrue, or directing the customer to random competitor products. To avoid this, an Actionbot using the GPT language model is primarily taught domain knowledge specific to a particular company or industry.
In the case of LANCERTO, this means first and foremost fashion and style expertise. The Actiobot was given access to the company's blog and additional information on topics such as garment care or style-related advice topics. As a result, the ChatGPT's tendency to hallucinate was reduced, while at the same time the language model was fed with an extensive knowledge base. By combining a conversational AI mechanism with the most advanced AI chatbot on the market – Actionbot – customers will be able to have a natural conversation on all fashion topics and will receive timely advice on a specific garment, styling or clothing care.
Actionbot will draw on LANCERTO's years of experience and careful selection of content for relevance to the audience, in this case, the premium fashion customer.
Revolutionising customer interaction
Actionbot is revolutionising customer interactions with companies, not only by streamlining processes, but above all by offering a unique experience. Its successful relationship with users, however, is not just the result of the technology used. It is essential to understand the context in which the chatbot will operate – and to prepare the tool accordingly, not least by accessing the right sources of data and information. Actionbot, equipped with the capabilities of the GPT-4 model, will find application in almost every industry. For example, in the health sector, it can provide patients with information on specific medications prescribed by the doctor or automatically make further appointments. In the tourism sector, in addition to carrying out the process of booking a trip, it will help to find places of importance to visit or suggest how to behave when visiting an exotic location.
The key to success will be a combination of technology and people, using AI capabilities to streamline processes on the one hand, and understanding customer needs and expectations on the other, to deliver truly valuable experiences. Properly prepared, it becomes a true partner, building delightful experiences in every channel of customer contact with the company.