Digital transformation – a necessary disruption
Digital transformation is a term heard probably everywhere by now. For many people, it means multimillion projects, sleepless nights, many hours of work, and, in the end, a project that does not really fulfil the starting assumptions. Many things make digital transformation difficult, but the key one is its complexity. The whole process requires many employees, from developers to graphic designers and project managers. Such a chain of people sometimes makes communication ineffective, with many assumptions from the beginning getting lost in the process.
Digital transformation became very popular, especially during times of pandemics. Companies that want to fulfil customers' needs were trying to find a perfect solution. However, it can be difficult, especially while the changes in the selected industry usually take a really long time. Companies are not used to react in real-time to customers expectations, offering them a better digital experience. The first step towards improving the process is implementing chatbots. It is a good idea, but finding a product that suits business and customer needs is not simple. That's why we created Actionbot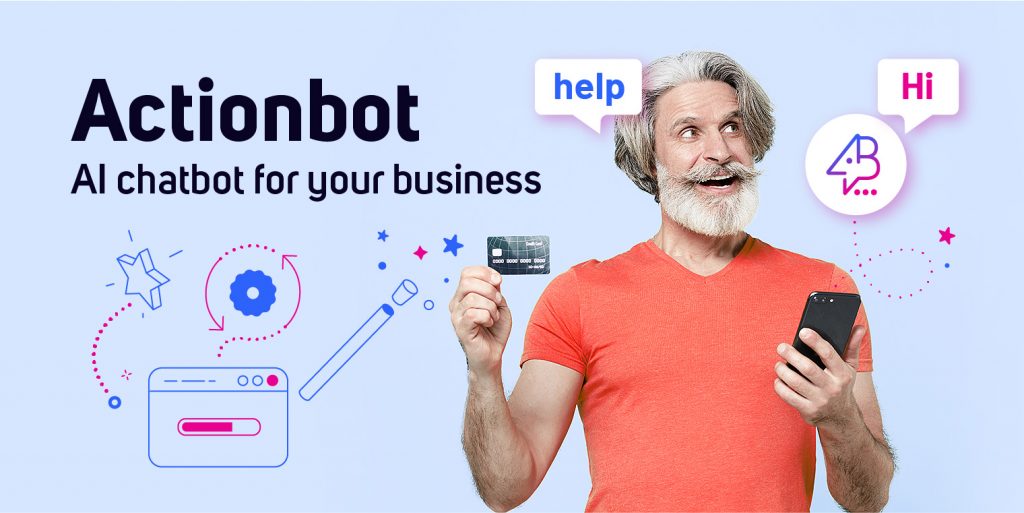 Actionbot – a true innovation at IBM Think Summit Poland
Actionbot is no ordinary chatbot. Instead, it is a bot that understands its surroundings, observes the customer's actions, learns the patterns, and, through automation, performs the necessary tasks. It is a tool that uses cognitive technology. At TUATARA, we are on a mission to create technology that will understand customer behaviour and provide practical solutions. That will make communication with the company intuitive and straightforward, whether in the sales or operational processes.
To meet these challenges, we have created a bot different from any other. We have created a chatbot that understands the context, integrates various digital channels, and automates customers' actions. It serves each company's business needs.
To see its functionalities in action, you can check some examples on our website.
What makes Actionbot different from any other chatbots on the market?
Struggle detection – Actionbot detects problematic situations for customers and reacts appropriately by analyzing customers' actions, e.g. written texts, clicks on the website, or selecting specific fields or forms. Such analysis can increase sales and simplify operational processes,
Built on IBM Watson engine – advanced AI engine that allows context analysis of messages from various channels thanks to Machine Learning. It provides applicable functions to the customer. The engine is flexible in implementation, integrations, and additional AI services, e.g. semantic analysis, or unstructured data analysis.
Various documents analysis – Actionbot can analyze simple texts and different multimedia (videos, photos, gifs, images, documents), making the conversation more interactive and engaging.
Full customization of look&feel – Actionbot can be tailored to the company's brand book. It enables the creation of a solution that becomes an internal part of the channel.
Management options – an easy-to-use configuration panel that allows the creation of the dialogues and effective dialogues management by non-developers. It also offers statistics about the solution that improves Actionbot's performance and maximize the number of resolved requests.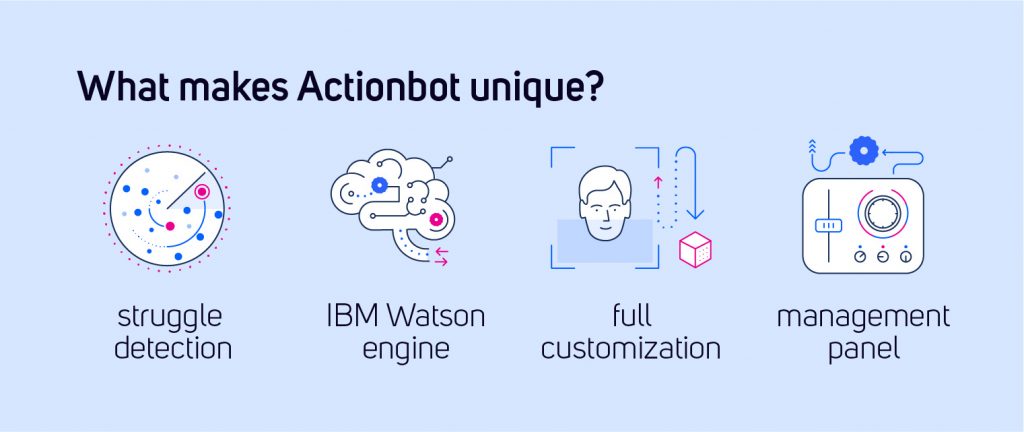 Main benefits of implementing Actionbot for businesses
Actionbot can provide many benefits for the company and end-users, and here are the ones that are especially worth mentioning:
Increase interactivity and automation thanks to the connection with various databases,
The ability to scale the solution to different business areas,
Centralized dialogue management, which ensures consistency in various channels,
A possibility to tailor the solution to the needs of different sectors,
Increase data security because of various implementation options (on safe IBM cloud, or on the client's server that offers the highest level of security and full control over the environment),
Experienced team of people to implement and develop the solution in only a few weeks.
Our presentation at IBM Think Summit Warsaw
Here you can see the whole presentation from IBM Think Summit (the presentation is in Polish).
Are you interested in trying Actionbot on your website? Contact us at marketing@action.bot – we'll prepare a dedicated working demo for your company in two days!