Process design and implementation
Business Automation is not just a trend; it is first and foremost a real business need. In an era of rapid changes and increasing market competition, companies need to look for ways to make their operations more efficient. Business process automation saves time and money and can improve resource utilisation and service quality. It is a necessity that cannot be ignored.
One trend in business process design and implementation is the use of a low-code/no-code approach. This means using technology applications that enable the automation of business processes with no or minimal code writing. This enables companies to create business processes faster and easier, reducing costs and increasing efficiency.
TUATARA, as a company that combines consulting and technology competencies, has for years been implementing solutions that allow non-programmer employees to define, implement and modify business processes themselves. In doing so, we use a range of technologies, including artificial intelligence, natural language processing mechanisms and machine learning. AI (Artificial Intelligence) can help automate processes, reduce costs, streamline work, and increase productivity. Our clients use AI solutions to analyse data, generate reports, recognise patterns and make business decisions.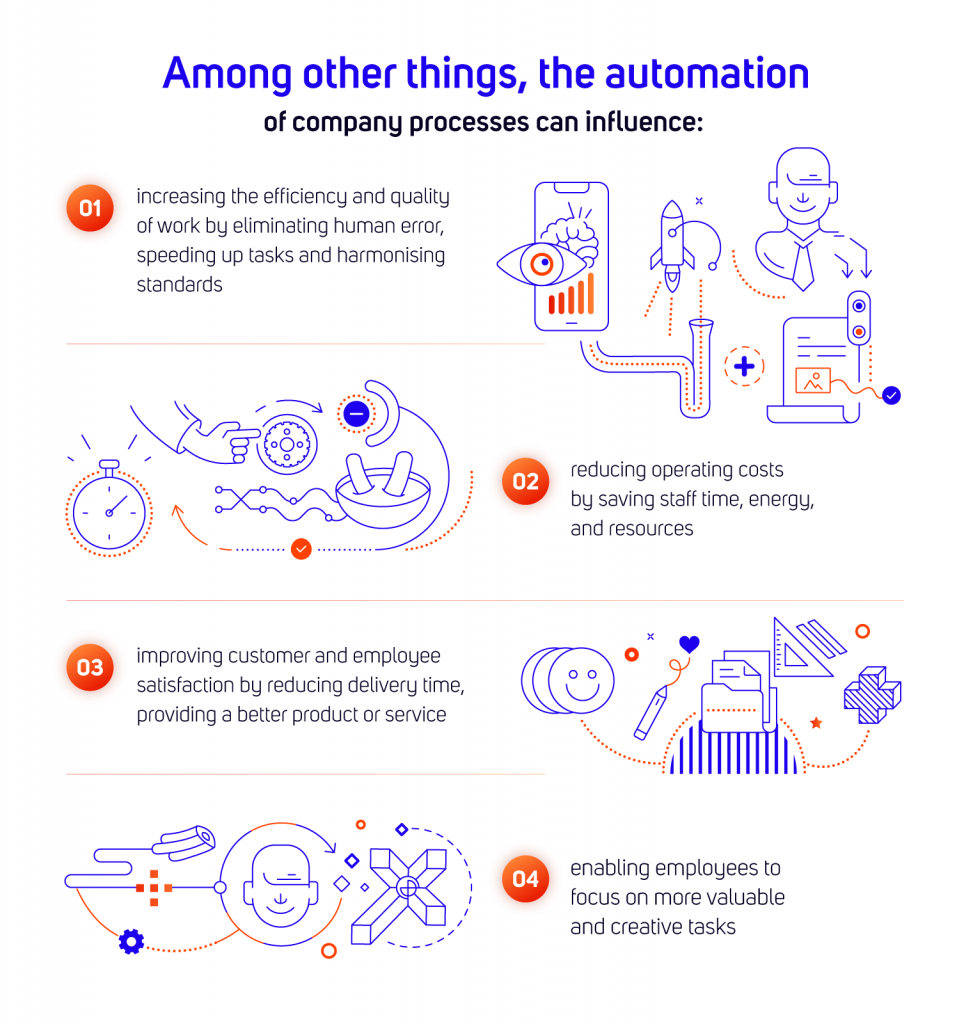 Business Automation solutions enable better control of processes and increased service quality by eliminating errors due to the human factor. Businesses can also achieve greater flexibility in adapting processes to changing market requirements. Business process automation can improve customer relationships through faster and more efficient problem-solving and better communication. Customers expect ever faster, and more customised solutions and business process automation makes it possible to provide high-quality services.
A very good example of this is the implementation of a fully automated digital leasing process by Santander Consumer Multirent, a leading financial institution that is part of the larger Spanish Santander Group. Customers can apply for a car lease, verify their identity using their smartphone thanks to facial recognition techniques, calculate their creditworthiness and carry out a risk assessment to process the application quickly and efficiently.
Among other things, the automation of company processes can influence:
increasing the efficiency and quality of work by eliminating human error, speeding up tasks and harmonising standards.
reducing operating costs by saving staff time, energy, and resources.
improving customer and employee satisfaction by reducing lead times, providing a better product or service, and allowing employees to focus on more valuable and creative tasks.
Business Automation in document management
The benefits of automating processes in terms of intelligent document workflows include first and foremost a reduction in the costs associated with manual document processing, a reduction in the time it takes to process documents and a minimisation of the risks associated with human error. It also means increasing the security of document storage, which is particularly important nowadays, when cyber threats are becoming increasingly serious. Introducing document management systems makes it possible to control access to documents and protect them from unauthorised access.

In one such implementation, TUATARA carried out a comprehensive implementation of a case manager and document archiving solution for more than 2,000 users at one of the largest insurers in Central and Eastern Europe. As part of the project, more than 148 back-office processes were implemented (including a central mailroom and integration with the Contact Centre). As a result, the insurer was able to increase the number of cases handled to over 40,000 per day and archive a similar number of documents.
An intelligent document management system not only improves the efficiency and competitiveness of an organisation or saves time. Data centralisation and easy access to information makes it easier for employees to quickly find and retrieve the documents they need, and the system ensures that information is protected against unauthorised access, loss or damage. In addition, the automation of document workflows makes it possible to meet legal and regulatory requirements, such as document retention times.
API (Application Programming Interface) management
API (Application Programming Interface) management is about providing a secure and reliable way for applications to communicate within an enterprise. Improving API management allows enterprises to integrate applications faster and more efficiently, as well as to make better use of existing resources. Market trends in API management focus on increasing openness and interoperability between different applications and systems. The introduction of API management tools allows for easier integration of different systems, which in turn results in increased flexibility and efficiency in operations.
Effective implementation of API management processes is now more important than ever. This is due, among other things, to the number of proprietary applications that companies use, but also to the increasing digitalisation of society and the popularity of the so-called API Economy – a business model in which companies choose from a portfolio of public and private APIs, developing their own services based on them. Often the provision of APIs is a direct result of legislation – as was the case with PSD2. TUATARA was one of the pioneers in implementing this solution in Poland, ensuring compliance for banks operating in Poland, including Alior Bank and Raiffeisen Polbank. Michal Żuchowski
Head of Services, TUATARA
Some reasons to implement an API management solution in your company:
Facilitate data and functionality integration between different systems and applications,
Improving the customer experience by providing personalised and multi-channel solutions,
Increasing innovation and competitiveness through the use of new technologies,
Ensure data security and compliance through the use of appropriate policies and protocols,
Saving time and resources by eliminating manual and repetitive API-related tasks.
See also how Fintin's innovative platform is revolutionising financing services, through the use of API Economy and cloud solutions, offering reliable and flexible delivery of financing services in the digital space.
Development and maintenance of integration services
The development and maintenance of integration services is a key element of business process automation. It involves creating and maintaining services that allow the integration of different applications and systems within the enterprise and the more efficient deployment of external services. Improving integration services allows faster and more efficient exchange of information between systems and better use of existing resources.
Currently, market trends in the development and maintenance of integration services focus on the use of cloud technologies and on enabling integration to be created easily and quickly based on integration patterns and models. With the growth of the cloud, enterprises have access to a wide range of integration services that allow them to implement integration processes quickly and efficiently.
An excellent example of how Business Automation can contribute to improving a company's financial performance is the use of artificial intelligence and machine learning models for data analysis and automatic processing. For example, a few years ago, TUATARA, together with one of the largest insurers in Central and Eastern Europe, developed a system for identifying false medical claims. AI/ML models verified more than 12 million records, detecting more than 6,000 potential false claims, which directly translated into approximately €5 million in savings for the insurer. Krzysztof Goworek
CEO at TUATARA
Business Automation and optimisation of workflows
When thinking about automation in a company, one cannot forget to optimise workflows, including processes such as those related to project management, those related to orders, or customer service. Business Automation makes it possible to increase productivity and reduce costs, as well as to improve service quality. Such solutions significantly speed up company processes and reduce the costs associated with the performance of tasks by employees. Their effective implementation also directly contributes to improving communication between the various departments of an organisation.

Nowadays, in terms of workflow automation, it is worth focusing on the use of artificial intelligence and integration with business systems. It has become possible to create systems that canmake certain decisions on their own, which significantly speeds up processes and reduces the time required to perform tasks. Combined with integration with business systems, workflow automation provides a more complete view of a company's processes and allows tasks to be managed more efficiently.
The automation of workflows also reduces human error, which in turn increases the quality of service and enhances the company's image.
Design and implementation of SOA architecture
SOA (Service Oriented Architecture) is a design approach that relies on creating services as independent entities that can be easily integrated within an enterprise – allowing the organisation to respond more quickly to changing market requirements. The design and implementation of SOA is an important element in the automation of business processes; it enables the easy and rapid creation of new services and microservices and their combination in different contexts, and ultimately the adaptation of applications to specific business needs. It also makes it easy to deploy and scale applications, saving time and costs associated with application management.

An example of a successful SOA implementation is the project led by TUATARA implemented at Byblos Bank, a large bank operating in the Middle East and some European countries (Belgium, France, and the UK). The most important need was for a solution that facilitates the development and maintenance of integration services, streamlines business processes, increases transparency and enables the differentiation of business decision rules. The bank was also keen to lay the foundations of a system that would automate bank loan processes.
TUATARA provided the bank with a blueprint for a new integration bus (IBM IB), both on a logical and physical level, along with an ODM (Operational Decision Manager) component. We also built the development environment and migrated over 100 services from the previous bus (WebSphere EB). The second project, run in parallel by TUATARA, focused on the business development process of individual loans.
The implementation of SOA has allowed the bank to:
Improving business and integration processes
Increasing transparency and flexibility in service management
Improved efficiency and reduced costs of maintenance and development of integration services
Automate the bank loan process and increase operational efficiency
In TUATARA, we also carry out a maturity assessment for SOA implementation, based, among other things, on the OSIMM (Open Group Service Integration Maturity Model) methodology. On this basis, we prepare a development plan for IT services and systems. This process is not lengthy, even in large organisations. For example, at one of Qatar's leading banks, Ahlibank, it took us less than a month.
Business Automation services in TUATARA
Business process automation is not just a trend, but a necessity in today's business world. It is therefore worth looking at key areas such as the aforementioned process design and implementation, document management, API management, integration service development and maintenance, workflow automation and optimisation, and SOA architecture design or implementation. Businesses that want to succeed in today's market should look at their business processes and consider automation to improve productivity and efficiency.
At TUATARA, we help clients understand the benefits of automating their API management processes. These enable easier and faster system changes, which is particularly important in today's fast-paced market. By integrating different systems, companies can also gain a more complete view of the overall business and increase the quality of their services.
We help you design and automate processes, implement intelligent document management and workflows in your company, and optimise workflows. TUATARA will also help your company design and integrate services and microservices within an SOA architecture.