Fintin – a complex platform for improving finances
Fintin is an innovative solution perfectly adjusted to the needs of financial services providers, car dealers, brokers, and their clients. It provides a full set of tools for end-to-end financing offerings.
Supported with ready-to-use and flexible modules, Fintin can be customized and used however you like. It's an agile, secure, and privacy-compliant solution that can be implemented in various configurations – on-premise, hybrid, or in clouds such as Azure, AWS or IBM. It is a true digital revolution in the financing industry.
What our financing platform has to offer?
Fintin is improving finances by providing an excellent digital customer experience. But let's take a closer look at what makes this solution unique, and why we call it a digital revolution.
Flexible modules
Each module contains ready-to-use, predefined processes and integrations compatible with business domains. Moreover, you can easily adapt modules to match your requirements thanks to microservices architecture and intuitive API.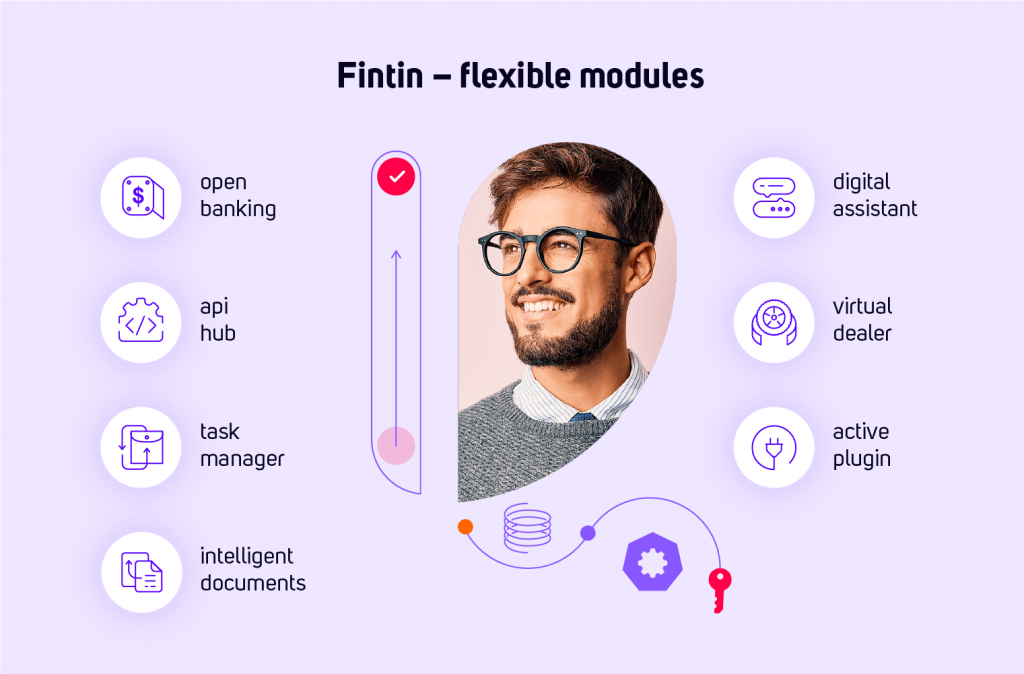 Choose any module you like to create a platform that suits your needs perfectly:
Virtual dealer – presents financing services and additional options to compare offers, choose the best promotions and complete the process online.
Active plugin – supports the embedded finance revolution by offering financing services on any website or application.
API Hub – allows you to make multiple financing offers available in one place, with different parameters adjusted to the needs of your customers or partners.
Digital assistant – offers an intelligent, conversational interface based on NLP that can suggest various financing options and ensure a perfect digital experience.
Task manager – enables error-free and effective management of various services for your customers, such as applications, damage reporting, or visit management.
Intelligent documents – automatically recognize, classifies and process elements from various documents by understanding the presented data.
Open banking – aggregator designed for banks or TPPs that helps easily take advantage of the data provided by banks as a part of open banking (PSD2).
Personalized offers
Fintin offers omnichannel personalization as an answer to the constantly evolving customers' needs. It uses data analytics and customer segmentation to provide the best-personalized financing offering. Also, it gathers the whole database of services to offer.
Process automation
Thanks to process automation, Fintin answers the customers' needs by providing financial offers without leaving the house. Using a proprietary solution that allows interpretation of natural language with the help of AI and ML, it becomes possible to automatically classify documents and data contained in them to automate processes.
Pre-integrated connection with tools used by the sales department and open data sources allow our financial platform to shorten the purchasing process's duration, significantly increasing customer satisfaction. The shortening duration of the processes starts at the very beginning of the client's financing selection.
Ensuring security
Fintin is a fully-secure and market-ready solution compatible with various financial sector security standards, including PSD2, OWASP ASVS, and Cloud Computing Regulation and Standards (KNF). It was designed to unify multiple standards banks use to share their APIs.
Cross and up-selling
Fintin matches the products using the best knowledge about the customer. Data gathered and analyzed from customer behaviour patterns enables the creation and adaptation of individual segmentation models. The use of segmentation allows you to reach the customer with the best offer, thus reducing the chances of a transaction failure. Offering additional products and services as part of financing has become an integral part of the vehicle financing market.
Aftersales support
Fintin offers complete digital aftersales support for each client and takes care of their processes related to contracts and obligations. Thanks to the integration of multiple data sources, our financial platform enables fast and safe implementation of product management processes. Ready-to-use domain modules make it possible to flexibly implement a solution adjusted to the company's IT ecosystem.
Our financing platform is the one place to monitor customers' payments, submit claims and track their progress. We also offer the possibility to purchase additional products and services during the contract term – everything to ensure that the customer is satisfied.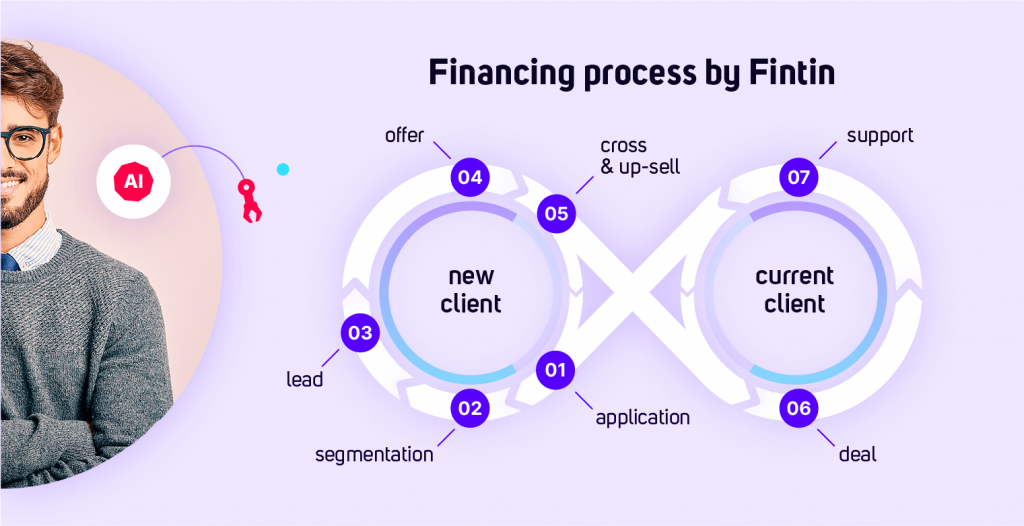 Fintin is a digital revolution in the financing sector
Fintin is a flexible, modular platform offering financing in any digital channel. We could create such an innovative solution thanks to TUATARA's wide portfolio of experience in integrating key systems in financing institutions. Our financing platform helps leasing companies, insurance firms, car dealers, e-commerce, and other businesses adjust financing to their customers' individual needs. We created a comprehensive platform allowing you to offer financing wherever your customers need it.