In today's digital world of rising customer expectations, the key to success for almost every business is modern, efficient and intelligent customer service. They expect round-the-clock support, instant answers, and – increasingly – assistance in navigating the ever-growing resources of a bank, online shop, or insurance company.
Actionbot, a product from TUATARA, is the answer to the needs of customer service departments and an invaluable aid in relieving their staff of the burden of dealing with frequently occurring problems or questions. Using the latest technologies, including AI and NLP algorithms, Actionbot revolutionises customer interactions by offering fast, intuitive, advanced, and – more importantly – accurate answers. Its easy integration into a variety of applications and short deployment time make it not only innovative but also an extremely practical solution for companies across industries.
In a world where technology is developing at a dizzying pace, our priority is to provide solutions that will actually improve customer interactions. Actionbot is a perfect example of this. Its ability to listen, observe, and respond appropriately makes it one of the most advanced tools in our portfolio. This is backed not only by the feedback from our partners who have chosen to implement Actionbot, but also by the results – often 95% effectiveness and high customer satisfaction rates. Krzysztof Goworek
CEO, TUATARA
Actionbot is no ordinary chatbot. Its skills go far beyond providing simple answers. Actionbot can support the customer throughout the entire purchase path, navigate the website, and even fill in a complaint form for them. The magic of our chatbot is that, although it does not pretend to be human, it can provide a customer experience as close as possible to interacting with a live consultant. What's more, its skills can be integrated with GPT technology so that the conversation feels even more natural, while limiting the digital assistant's 'knowledge' to precisely designated knowledge resources.
Actionbot helps companies in a wide range of industries – from e-commerce, banking, and insurance to education. See examples of clients who have trusted the magic of Actionbot.
LANCERTO – a chatbot for fashion e-commerce platform
Renowned premium menswear manufacturer LANCERTO has implemented an Actionbot-based virtual assistant on its fashion e-commerce site. It acts not only as an advisor but also as a digital stylist. Developed by TUATARA in collaboration with STYLESPOT.pl, the ARI chatbot was designed to enhance the customer experience when shopping online, providing personalised recommendations, fashion advice, sizing assistance, order handling, and technical support.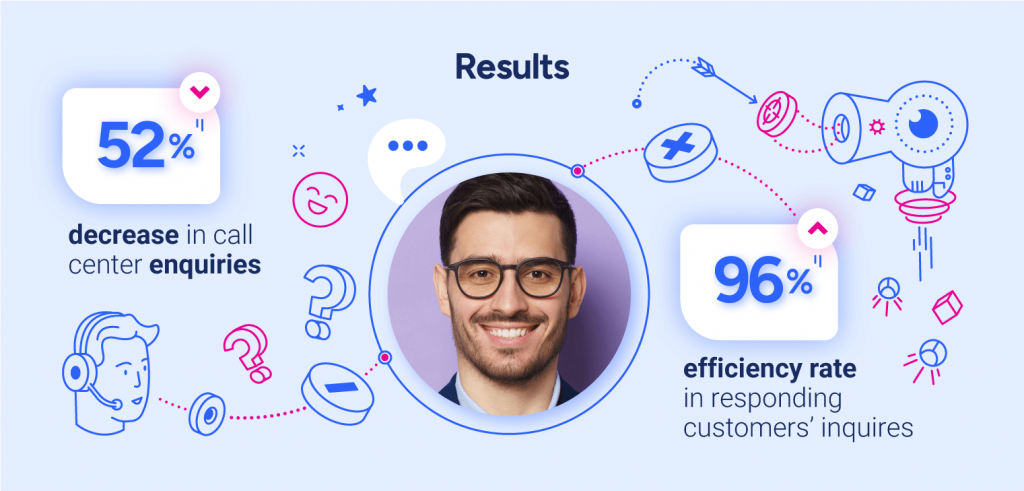 Among the biggest challenges were adapting the chatbot's knowledge to men's fashion trends and integrating it with extensive internal systems. In the future, ARI may be enhanced with ChatGPT functions, and fed with extensive knowledge from the company's blog, containing not only fashion information, but also tips, trivia, and information on topics related to clothing.
For us, the collaboration with Lancerto is not only a business success, but also a confirmation that technology and fashion can go hand in hand, creating unique experiences for customers. We hope that in the near future, thanks to the integration with ChatGPT, our Actionbot will not only answer questions but also advise and inspire customers, just like the best salesperson in a boutique. This is a revolution in the approach to customer service, showing that technology can be used as a tool to strengthen customer relationships, not just as a way to automate processes. Patryk Kozłowski
Actionbot Product Manager
Almost immediately after implementation, ARI significantly improved service levels, productivity, and satisfaction among LANCERTO customers.
Read more on our case study on Actionbot's website: Actionbot for LANCERTO – case study: a chatbot for a fashion e-commerce platform
Generali Poland – chatbot for the insurance sector
Leon is a virtual assistant, based on Actionbot, which was implemented on Generali's website in just a few weeks. Generali Poland partnered with TUATARA to automate services and improve communication with customers and, thanks to Actionbot, streamline operational processes. The main challenges included automating FAQs, claims processing, and policy selection, reducing the number of incoming calls from the call centre and improving the flow of communication with customers.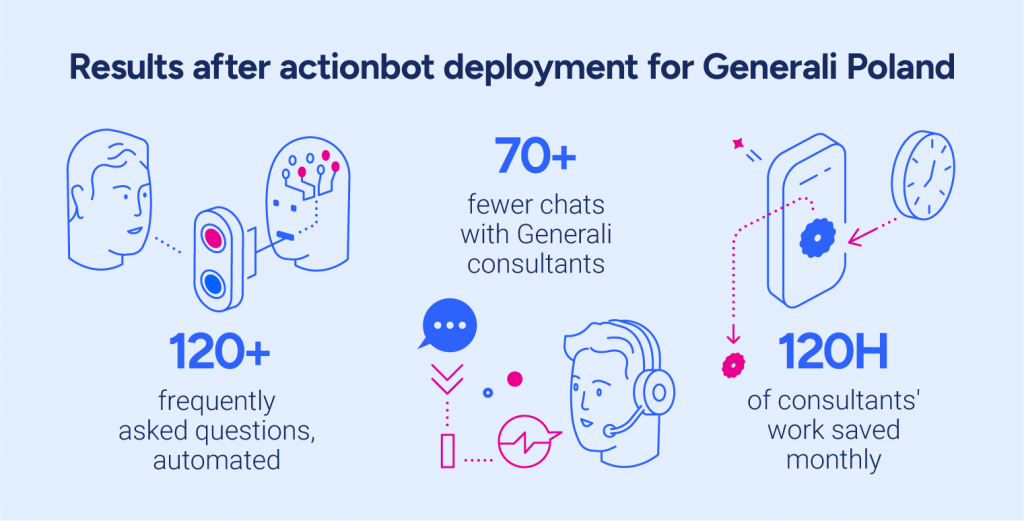 The results that came one month after implementation were truly impressive. Thanks to the chatbot, 2.5 times more interactions were recorded comparing to existing consultant calls. The automation of the most common questions reduced the number of incoming calls to agents, and the customer service department was able to reduce the working time previously spent answering repetitive questions by an hour a day. As a result, 120 man-hours per month have been 'saved', allowing consultants to focus on more complex issues that require human intervention.
The chatbot is currently being continuously developed and integrated with internal systems to enrich its knowledge and make it a central point of support, available 24/7.
Read more on our case study on Actionbot's website: Actionbot for Generali Poland – case study: a chatbot for the insurance sector
Omantel – a chatbot for the telecommunications sector
Omantel, one of Oman's largest telecom service providers, has partnered with TUATARA to use Actionbot to automate customer communications. Currently, the chatbot is used by more than 100,000 users per month and is used not only to streamline Customer Service operations, but also to automate a number of internal processes, such as onboarding new employees and an internal recommendation programme. With the scale of a telecoms company's operations and thousands of employees, this approach means huge savings.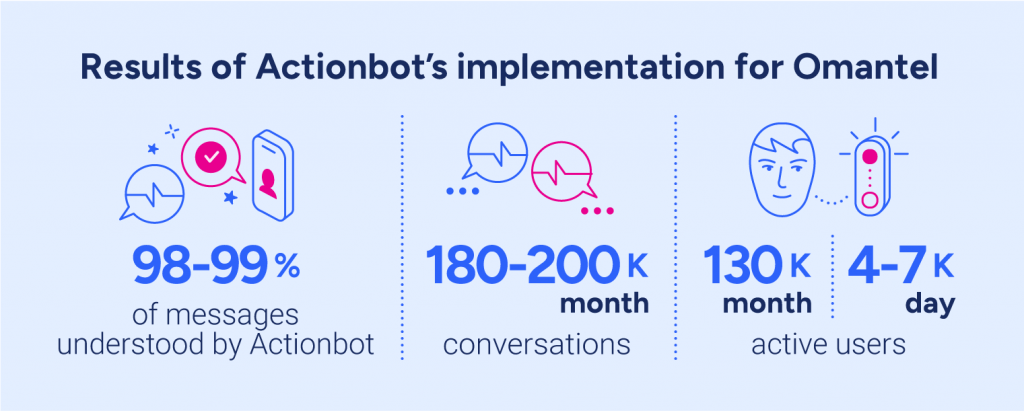 The main objectives of the implementation were to automate interactions, reduce call centre workload and improve the quality of communication. The solution included the implementation of Actionbot on WhatsApp and in the mobile app for frequently asked questions, customer service, and transactions. Internal queries or e-commerce automation were also included. The results showed better conversation automation, integration with multiple channels, as well as a positive customer experience. It is worth mentioning that only around 2-3% of them choose to contact the hotline after using the chatbot services.
Actionbot's unique functionalities include digital versatility, context recognition, and process automation. It is customisable, can be integrated across channels, and can provide effective analytics to assess and improve business performance.
Read more on our case study on Actionbot's website: Actionbot for Omantel – case study: chatbot for the telecom sector
Tutore – a chatbot for an online educational platform
Tutore is an education platform that enables contact between teachers and students. To improve contact and provide users with easier access to knowledge, Tutore has implemented an Actionbot version known as Tutore, a virtual assistant in education.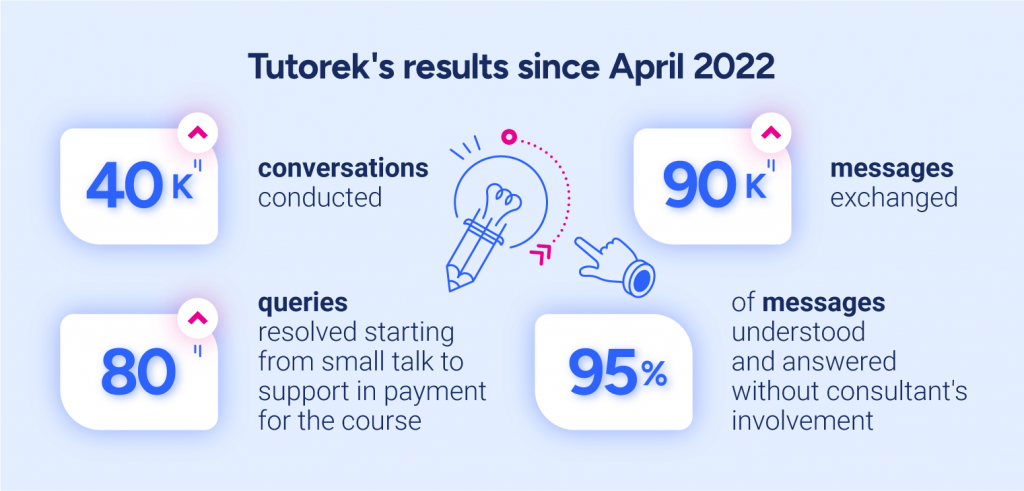 Tutorek supports students and parents with information and answers to questions related to course registration, pricing, contracts, payments, complaints, and technical issues. The virtual assistant has been designed to match the image of the platform and to engage young learners. Tutorek offers a rich English course experience, including repeat questions, help with quizzes, vocabulary learning, exercises, and access to course materials.
After nine months of implementation, Tutorek has had more than 90,000 conversations and achieved a 95 per cent success rate in matching questions to answers from the database. This has reduced the number of repeat queries and improved the interaction rate. Tutore plans to further develop and expand Tutorek to provide an even more engaging and personalised experience for its students.
Read more on our case study on Actionbot's website: Actionbot for Tutore – case study: a chatbot for an educational online platform
The University of Silesia in Katowice – chatbot for the education sector
The authorities at the University of Silesia in Katowice needed a solution that would provide students, applicants, and staff with a user-friendly solution for using the university's extensive online resources. That is why we have implemented Actionbot, a virtual assistant tailored to the challenges of an educational institution, on the university's website. The main goal was to create a one-stop contact centre for users, simplifying access to information and supporting processes such as recruitment, application, or application handling.

Working with the Actionbot team involved launching the cloud-based assistant across all university websites, aligning its design with the university's branding and ensuring compliance with privacy standards. The virtual assistant was designed to engage the user with simple messages, intuitive navigation, and menus suggesting topics of conversation.
In the first two months of implementation, the virtual assistant conducted more than 3,780 interviews, with the majority of inquiries coming from applicants, students, and university staff. The assistant successfully answered around 94% of the questions asked. It reacted proactively to user behaviour and effectively provided information and communication support. Our implementation of a chatbot for the education sector was carried out as part of the project "Level up↑ – increasing the communication efficiency of the University of Silesia and shaping openness in society".
Read more on our case study on Actionbot's website: Actionbot for the University of Silesia – case study: a chatbot for the education sector
Chatbot for a company offering a parking system for electric cars
One of the leading providers of parking solutions in the GCC region has automated customer service by implementing our virtual assistant. Customers gained 24/7 access to information on tariffs, opening times, and discounts for an ever-growing number of car parks and electric vehicle charging stations.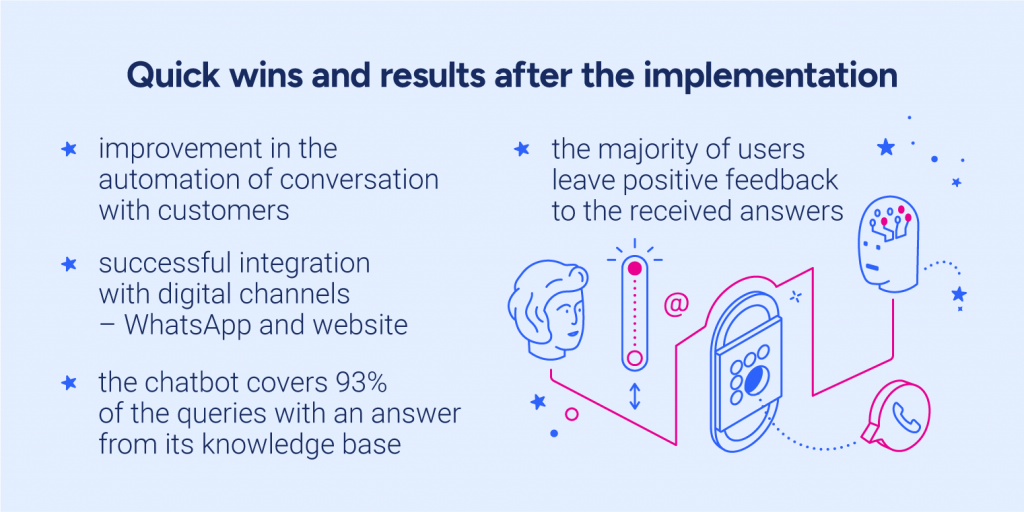 By implementing Actionbot on its website and WhatsApp, the company has improved its customer service, supporting B2C customers and automating answers to the most common questions. The chatbot assisted customers with finding parking, troubleshooting problems, accessing EV charger networks, and purchasing home chargers. It also generated sales leads and improved communication.
Read more on our case study on Actionbot's website: Chatbots for parking services – case study
Oman's Ministry of Health – chatbot for the public sector
The Ministry of Health in Oman partnered with TUATARA and Omantel, one of the country's largest telcos, to deploy Actionbot as soon as possible during the COVID-19 pandemic. The main challenge was to provide citizens with accurate information and statistics on the virus, as well as basic safety measures.

In just two days, an efficient chatbot was created, integrated with the ministry's website and mobile app. The chatbot successfully answered frequently asked questions, provided real-time updates on COVID-19 cases and offered information in both English and Arabic.
Within 48 hours of implementation, 4310 Omani citizens had used the solution and its popularity continued to grow. The pro bono solution proved to be a helpful tool during the outbreak, demonstrating its ability to support the public sector and provide assistance to citizens in difficult times.
Read more on our case study on Actionbot's website: Actionbot for Ministry of Health in Oman – case study: a chatbot for the public sector
Summary
Actionbot streamlines communication with customers in any industry and, in addition, is constantly evolving. It can be easily integrated into a company's internal systems, deployed in the cloud, hybrid or on-premise. Its contextual understanding allows for relaxed conversations with customers and the highest quality of service.
In the near future, it will also be possible to use GPT technology so that interactions are even more natural. The first test implementations of Actionbot using the capabilities of ChatGPT show that we can significantly improve the quality and efficiency of dialogues, while retaining what is most important in Actionbot – the ability to accurately guide customers across digital channels and provide them with a enchanting experiences during every interaction with the brand.