A little introduction to TUATARA
TUATARA is a team of artificial intelligence, machine learning and cognitive automation enthusiasts who take an innovative approach to customers' business needs. We are constantly improving our products and services to exceed expectations and provide enchanting experiences in the digital space. This allows you to focus on what you know best – running your business.
TUATARA effectively supports business initiatives by listening to the needs of companies and institutions, unafraid to take risks and shape their digital transformation. Every change is an opportunity that requires agility that unleashes creativity and enthusiasm that gives courage. And that's the magic we bring to the projects we implement.
Our innovation-driven products
TUATARA builds and enhances digital interactions with customers at all stages of the sales cycle. We carry out unique projects in many industries, including telecommunications, finance or insurance. Each of the products we create is continuously developed by a dedicated team and can be implemented independently or used as part of a comprehensive solution.
Learn about innovative TUATARA products that can become your competitive advantage.
Actionbot – AI chatbot that acts, for your business
Actionbot is a conversational AI chatbot focusing on exquisite customer experience. This cognitive digital assistant can revolutionise customer service in Telecommunications, Insurance, Healthcare, Education and other industries. Thanks to AI and NLP algorithms, it foresees customers' actions within any digital channel and reacts accordingly. Actionbot can interact with any digital channel, operate in a selected environment, and integrate with CRM or any other data source. Also, you can integrate our chatbot with any application, website, or technology.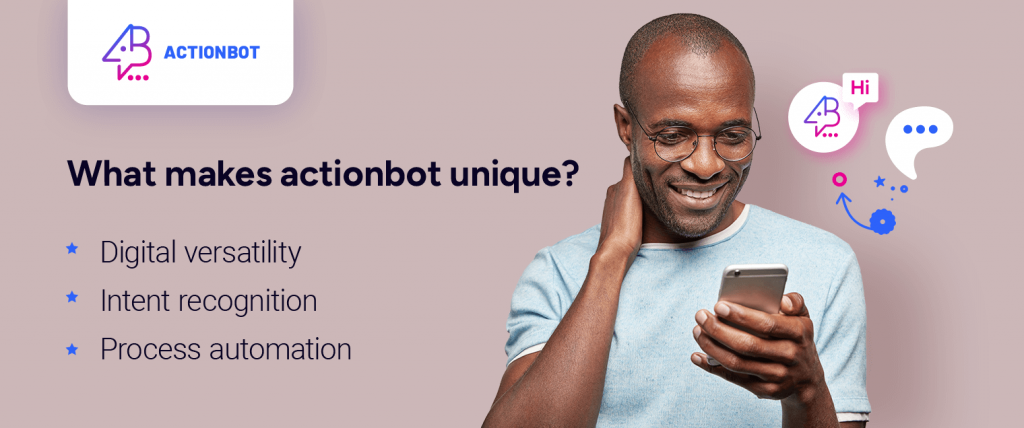 Actionbot is an intelligent assistant that can up and cross-sells with ease. It is ready to learn, and its ability to understand the context of each message makes the conversation with the customer go smoothly. It also uses its knowledge to automate multiple time-consuming processes. Equipped with an innovative IBM Watson Engine, Actionbot can understand structured and unstructured data. All these features guarantee the best possible digital experience for customers.
You can try Actionbot's magic in the four use cases presented below:
Fintin – offers financing wherever you need
Fintin is an innovative financing platform that helps leasing companies, insurance firms, car dealers, e-commerce, and other businesses adjust financing to their customers' individual needs. We created a comprehensive platform with a set of tools for end-to-end financing offerings with fully-customisable options. It's an agile, secure, and privacy-compliant solution that can be implemented however you prefer – on-premise, hybrid or in the cloud.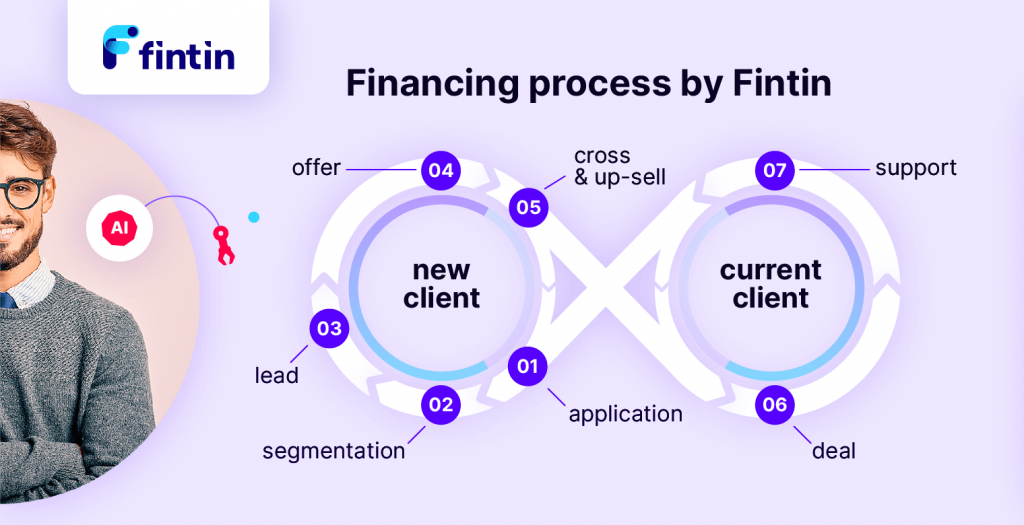 What makes Fintin a unique financing platform?
Flexible modules – each one contains ready-to-use, predefined processes and integrations compatible with business domains that ensure an easy adaptation to match customers' requirements. You can choose all modules or just the ones you need the most, such as virtual dealer, active plugin, API hub, digital assistant, task manager, the module for managing intelligent documents, or an open banking aggregator.
Personalised offers – our platform allows for omnichannel personalisation by using data analytics and customer segmentation to provide the best-personalised financing offering.
Process automation – Fintin can answer the customers' needs by providing financial offers and can automatically classify data or documents thanks to natural language interpretation with the help of AI and ML. Process automation also shortens the whole purchasing process's duration, significantly increasing customer satisfaction.
Complete security – our solution is compatible with various financial sector security standards, including PSD2, OWASP ASVS, and Cloud Computing Regulation and Standards (KNF).
Cross and up-selling – by gathering and analysing data from customer behaviour patterns, it can segment clients and reach them with the best offer, thus reducing the chances of a transaction failure.
Aftersales support – Fintin offers complete digital aftersales support for each client and takes care of their processes related to contracts and obligations.
sensID Cognitive Automation – document-based automation
sensID Cognitive Automation (by 4Semantics) uses NLP technology to automate document comprehension processes and analyse textual data. It can also store information in separate documents and use it as structured data in RPA processes or analytics. The technology we developed helps information comprehension and understanding of data models, which can work with any business documentation.
sensID Cognitive Automation pools together data from various textual data sources, such as databases, forms, templates, CSV, HTML, doc or PDF files. As a result, our customers can access these structural, semi-structural and non-structural data sources in one integrated data view.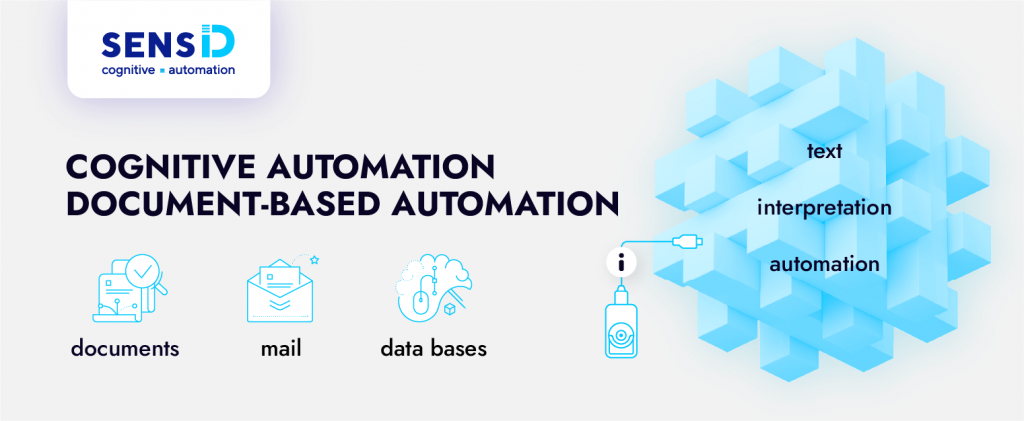 What makes sensID Cognitive Automation technology unique?
Analysis of corporate documentation, including the most complex business and legal documents,
Comprehension of documents from all possible data sources and databases in one single solution,
Fast implementation, because of easy domain-specific customisation tailored to the needs of every client,
Possibility to share information thanks to the built-in integration with external automation, BPM and analytics tools.
The Cognitive Hand – will work out the time for you
The Cognitive Hand (by 4Semantics) allows for the cognitive automation of documents from various sources. It understands the data included in these documents, extracts information from them and learns how the user handles individual applications. The gathered knowledge and skills significantly shorten employees' time spent performing monotonous tasks. Our solution simply gives them a helping hand and does this job for them. The application is ready to use immediately after installation and doesn't require a long implementation process. Everything is done automatically.

What can The Cognitive Hand do for businesses?
Automatically complete forms with the data from the indicated documents,
Prompt the information after selecting the necessary data from the list created on the data source,
Verify documents and reduce random errors by the automatic compliance check,
Assist in creating texts, such as automatic replies with information about the case.
TASIL – it's high time for real-time
TASIL is an innovative real-time Big Data platform that enables companies to monetise behavioural, transactional or location data about their customers. It is a complete, pre-integrated and ready-to-market product for secure data monetisation. TASIL is a pioneering data monetisation platform for companies collecting vast amounts of data, such as telecommunications operators, banks, insurers or retailers.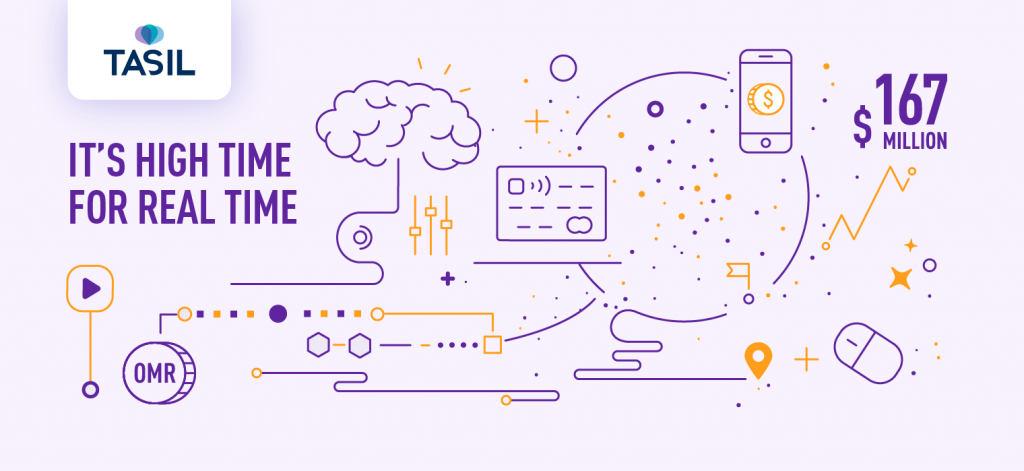 We've implemented our real-time marketing platform for Omantel – the main telecommunication provider in Oman. It has successfully worked as an SMS marketing service for personalised and segmented communication.
What makes TASIL an innovative marketing campaign creator?
Data monetisation platform that transforms raw enterprise data into actionable insights and generates new revenue streams.
Secure platform compliant with GDPR,
Personalised communication adjusted to the specific audience, delivered whenever and wherever they prefer,
Customer segmentation based not only on their demographic metrics but also on their interests,
Quick and easy setup with a friendly interface.
Retixa – prime real-time
Retixa is a real-time communication platform with advanced analytics and dynamic user profiles​, allowing for analysing huge amounts of data in just milliseconds. It is an engine on which TASIL was built. It can integrate all types of data sources, such as location, user profile, phone calls, SMS and MMS history, mobile app data, or social networks​. Our solution supports the highest privacy and security standards in line with GDPR regulations​.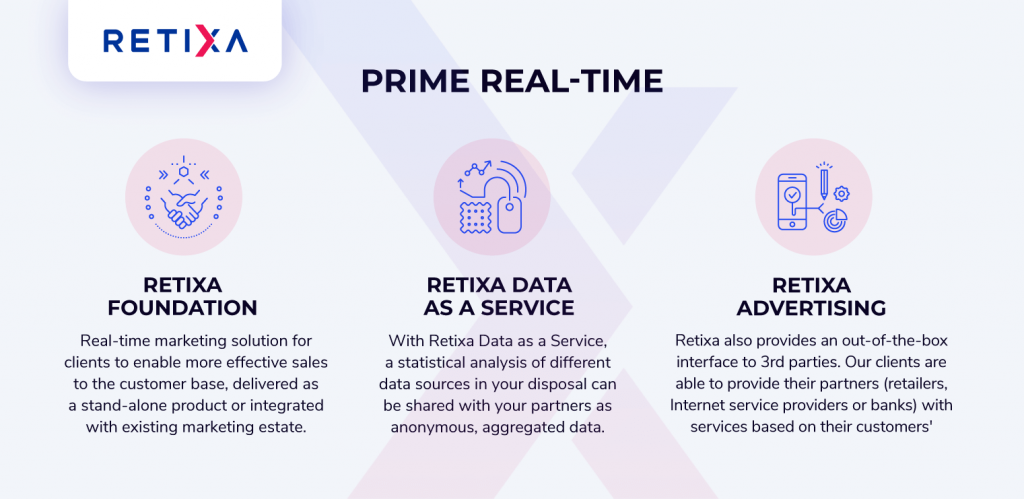 Retixa comes in three market versions, which meet different needs of your company:
Retixa Foundation – suitable for clients that need more effective and personalised sales to the customer base, especially in industries with high engagement levels and millions of customers or interactions, like telco, banking, retail or insurance,
Retixa as a Service – assist in sharing data analysis from various sources as anonymous, aggregated data, fully compliant with GDPR; intended especially for the banking industry,
Retixa Advertising – interface for 3rd parties that enables them to run highly targeted marketing campaigns based on the real-time data analytics engine without disclosing any data of individual customers.
sensID – every bit. discovered.
sensID is a platform for automated data management compliant with GDPR that consist of integrated tools – SensID Detect, SensID Catalog and SensID Mask. With the help of unique Machine Learning and Natural Learning technologic, the platform enables detection, analysis, classifications, cataloguing and protection of personal and sensitive data. sensID supports and integrates with structured and unstructured data sources, such as documents, files, system logs, or corporate mail.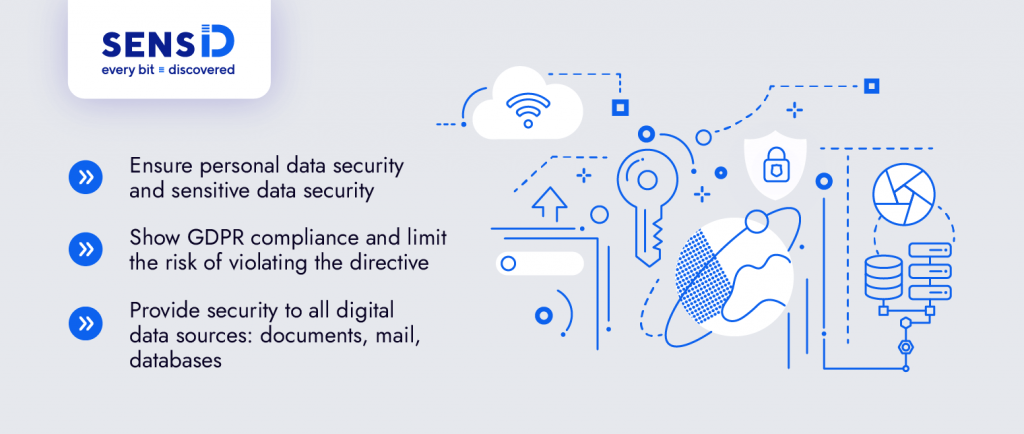 What makes sensID a unique platform for data management and personal data security?
Personal data security and sensitive data security that protects your organisation's data against leakage or breaches caused by a cyber-attack or human error,
GDPR compliance that allows the processing of personal data following the law, maintaining reliability, transparency, and constant readiness for control,
Security to all digital data sources, including documents, mail, databases and unstructured data sources, typically storing 80% of personal data in your organisation.
TUATARA products ensure enchanting experiences in various sectors
Our rich portfolio of innovative solutions allows us to support businesses from various sectors, from banking, insurance, and healthcare, to telecommunications. We are always ready to solve business problems by exceeding our customers' expectations. Our products are here to provide a total digital experience that can become a competitive advantage for your company. Visit our products' site to learn how we do it!