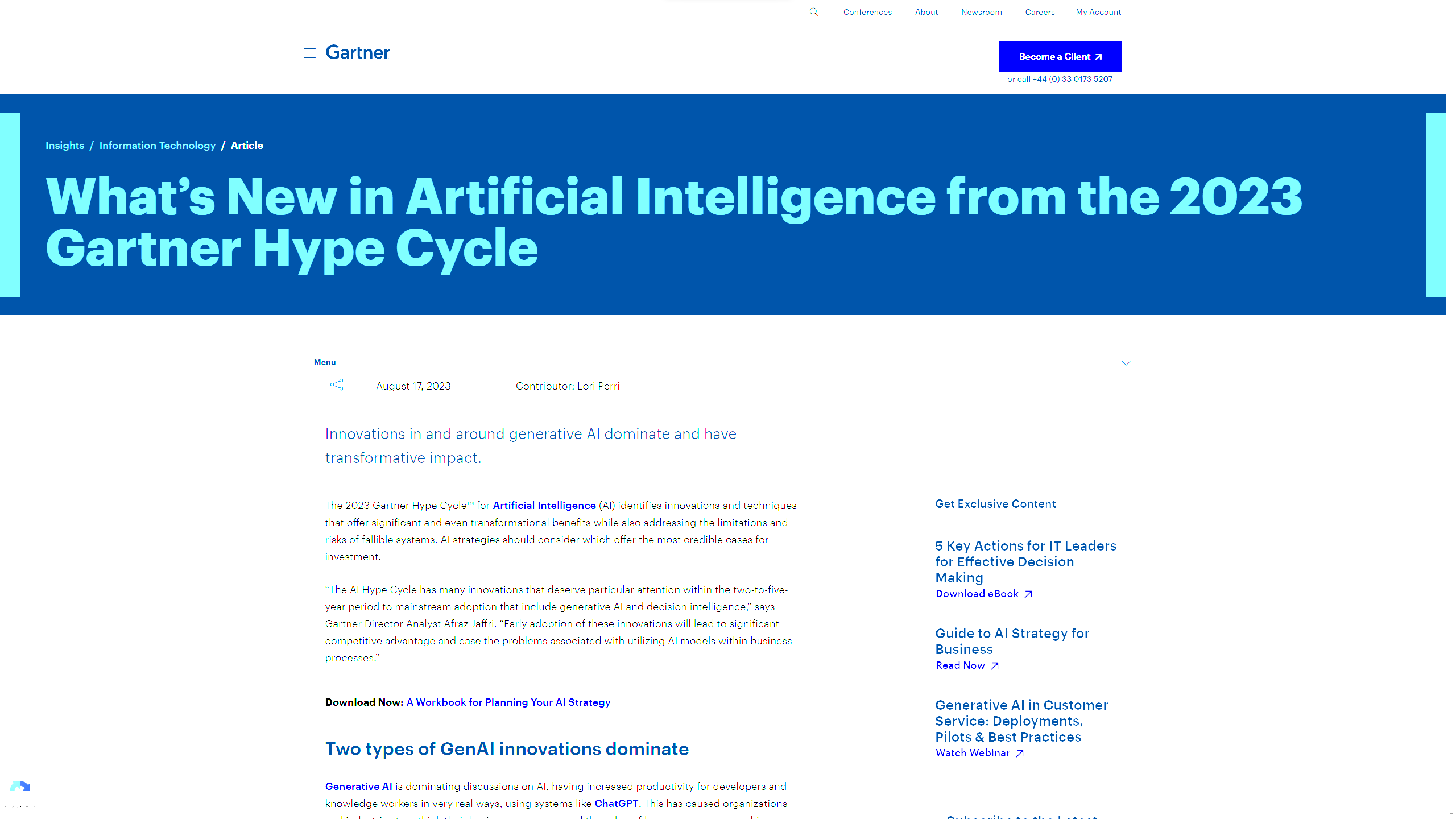 What's New in Artificial Intelligence From the 2023 Gartner Hype Cycle™
Learn how the 2023 Gartner Hype Cycle™ identifies exciting innovations in artificial intelligence that will be beneficial to business. Read the article ongartner.com
💹 According to Gartner, Generative AI is at the peak of "inflated expectations" – meaning that the discussion and dev work related to it is dominating the current IT market:
Generative AI is dominating discussions on AI, having increased productivity for developers and knowledge workers in very real ways, using systems like ChatGPT. This has caused organizations and industries to rethink their business processes and the value of human resources, pushing GenAI to the Peak of Inflated Expectations on the Hype Cycle. Lori Perri
GARTNER
The enthusiasm has been rising rapidly ever since the public launch of ChatGPT. Ours too – check out how we combined Actionbot with ChatGPT.
Announcing Microsoft Copilot, your everyday AI companion
We are entering a new era of AI, one that is fundamentally changing how we relate to and benefit from technology. Read the article onblogs.microsoft.com
🧠 Another big announcement from Microsoft/Open AI – Copilot, the AI companion got integrated into Windows 11 in a free update. It is included in the Moment 4 for Windows 11 22H2 update…but not for everyone. Copilot is enabled only for countries in North America and in parts of Asia and South America. The rest have to wait for their turn to experience Microsoft AI's goodness.
Why?
Presumably, because of more restrictive laws regarding AI and data processing in those other areas, especially in the EU.
With over 150 new features, the next Windows 11 update is one of our most ambitious yet, bringing the power of Copilot and new AI powered experiences to apps like Paint, Photos, Clipchamp and more right to your Windows PC.

Bing will add support for the latest DALL.E 3 model from OpenAI and deliver more personalized answers based on your search history, a new AI-powered shopping experience, and updates to Bing Chat Enterprise, making it more mobile and visual.

Microsoft 365 Copilot will be generally available for enterprise customers on Nov. 1, 2023, along with Microsoft 365 Chat, a new AI assistant that will completely transform the way you work. Yusuf Mehdi
MICROSOFT
Who would have thought that we would live to see an AI-powered MS Paint – the 6-year-old me would be thrilled!
AI chatbots were tasked to run a tech company. They built software in under 7 minutes — for less than $1.
A recent study found that AI-bots could talk to each other, reflect, and identify software bugs. Read the article onwww.businessinsider.com
🤖 Can ChatGPT run a software company and release products? A team of researchers from Brown University and multiple Chinese Universities wanted to find out in their study, by conducting an interesting experiment – they created a hypothetical company named "ChatDev" and asked ChatGPT 3.5 to develop software:
Once the researchers gave the AI bots their roles, each bot was allocated to its respective stages. The "CEO" and "CTO" of ChatDev, for instance, worked in the "designing" stage, and the "programmer" and "art designer" performed in the "coding" stage. (…)

At the designing stage, the CEO asked the CTO to "propose a concrete programming language" that would "satisfy the new user's demand," to which the CTO responded with Python. In turn, the CEO said, "Great!" and explained that the programming language's "simplicity and readability make it a popular choice for beginners and experienced developers alike." (…)

After assigning ChatDev 70 tasks, the study found the AI-powered company was able to complete the full software-development process "in under seven minutes at a cost of less than one dollar," on average — all while identifying and troubleshooting "potential vulnerabilities" through its "memory" and "self-reflection" capabilities. Aaron Mok
BUSINESS INSIDER
Obviously, it wasn't perfect – researchers found limitations, errors and biases, that caused some issues during development. Nevertheless – interesting stuff!
Call of Duty to Begin Using AI to Assess Voice Chat for Toxicity
The tool will look for hate speech, harassment, and other "disruptive behavior" before forwarding conversations to the moderation team. Read the article onextremetech.com
🤌 Rampant trash-talking has been an infamous staple of the popular shooter franchise's "Call of Duty" multiplayer experience. Well, AI is here to do something about it – ToxMod by Modulate is promising to be the "leader in the fight against toxic behaviour".
According to Modulate's website, ToxMod flags potentially harmful conversations and then triages them for toxicity review. This process sometimes involves removing background noise for more accurate analysis. From there, ToxMod assesses the "tone, timbre, emotion, and context" of a phrase or conversation to determine whether a player is behaving in a harmful way. While the tool does perform keyword analysis, this more nuanced approach ensures the entirety of a conversation is considered before taking action against a player. Adrianna Nine
EXTREME TECH
Player behaviour has always been a big issue for game developers to handle – we will see whether AI will prove to be the answer.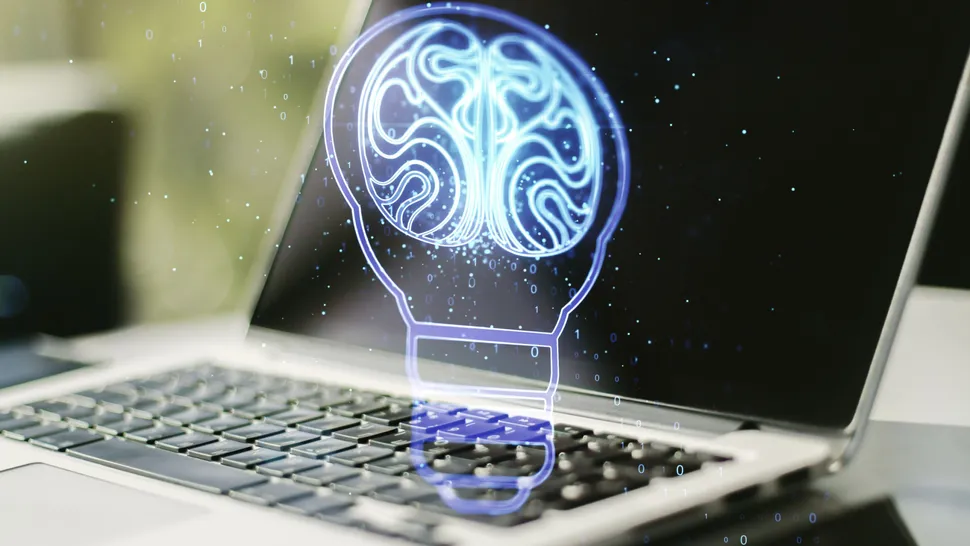 Many workers are faking knowledge of AI to make sure they aren't left behind
There's a need for more AI training, report finds. Read the article ontechradar.com
🗨️ Many workers are faking knowledge of AI to make sure they aren't left behind
Fake it 'till you make it – Canva's study of 1,000 professionals has shown that more than one-quarter (26%) had sometimes exaggerated their knowledge of AI in order to keep up with other co-workers.
It was also noted that the youngest workers were actually not the most on board with GenAI, with 59% of millennials seeing it as beneficial to achieving their full potential compared with 43% of Gen Z. A greater number of Gen Z also saw it as a problem compared with millennials.
Counterintuitively, more workers (43%) had used AI tools for a personal capacity than they had for work (35%). This could suggest that employees are genuinely curious about the technology, but that they lack meaningful training in the workplace in order to reap its benefits. Craig Hale
TECH RADAR
The tempo of AI advancement is staggering, so it's not a surprise that a lot of people may seem lost and prefer to lie, rather than admit their lack of knowledge.
Thankfully there is a newsletter that can help you keep up with everything you need to know. 🙂
Getty Images promises its new AI contains no copyrighted art
And it will pay legal fees if its customers end up in any lawsuits about it. Read article ontechnologyreview.com
🖼️ Safe to use AI-generated pictures for companies are here? Getty Images is very confident in its tool – to the point that it will cover any intellectual property disputes for its customers. Also, it is only trained on Getty's creative content, so it can't produce deepfake images:
The service doesn't know who the pope is and it doesn't know what Balenciaga is, and they can't combine the two. It doesn't know what the Pentagon is, and [that] you're not gonna be able to blow it up," says Peters, referring to recent viral images created by generative AI models. As an example, Peters types in a prompt for the president of the United States, and the AI model generates images of men and women of different ethnicities in suits and in front of the American flag." Melissa Heikkilä
MIT TECHNOLOGY REVIEW