Coronavirus outbreak
What started in December 2019 in Chinese's town Wuhan, is now considered to be a global pandemic. Coronavirus, or COVID-19, is spreading all over the world. All the safety measures all over the world were needed to be brought in. Our way of life and our jobs has totally changed during this pandemic. It is mostly because of recommendations to stay at home. The quarantine is one of many efforts introduced to prevent the virus from spreading, along with travel restrictions, curfews, event postponements or facility closures.
With the majority of people staying at homes, it is no surprise that they became even more digital than before. That's why all the major companies needed to put their focus on the online part of their business. We all had to make necessary adjustments while moving into the online world, even if we weren't 100% ready to do that. Companies needed to provide their employees with technology that is going to make their work comfortable.
Actionbot's integration with Oman's Ministry of Health
Oman's Ministry of Health always puts the health of Oman citizens first. They want to provide them with the best service, even during such difficult times. These days most people are looking for the necessary Coronavirus information, so the Ministry of Health wanted to give them such an opportunity without contacting the agent. Therefore, they needed to act quickly with a reliable company.
They decided to contact TUATARA and Omantel about our recently developed solution – Actionbot, the intelligent chatbot. Our partnership had already proved to be working flawlessly, and this time it was no different.
As we needed to start working quickly, we agreed on a basic implementation of our Actionbot. Its primary value was to give all the necessary information about the Coronarivus in Oman to the people. After such an agreement, TUATARA's team, both located in Poland and Oman, has started the work on the integration of our chatbot with the Ministry of Health's website and mobile app.
It only took us two days to create a functioning solution. We introduced an AI chatbot, an intelligent assistant that uses AI and NLP algorithms. The solution can answer the most common questions about the virus, the pandemic, and all safety measures required in Oman. After integration, we are able to update the chatbot with new questions and develop its functionalities continually.
If you want to see our working solution, visit Oman's Ministry of Health's website.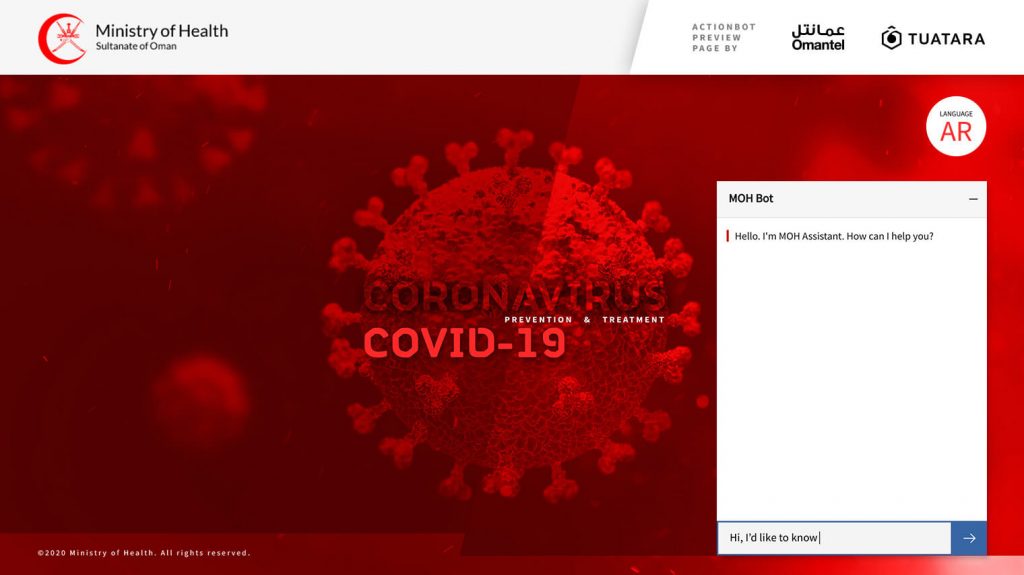 The success story
The implementation of Actionbot for the Ministry of Health was a great success. Not only did we manage to integrate the solution in such a short time, but also we did it entirely pro bono. In such difficult times, it is essential to create solutions that will be helpful and not only profitable. It's TUATARA's mission to support companies in finding their way in the digital economy. Such situations, like the Coronavirus outbreak, proves that our work matters and is important.
Also, we are thrilled with the success we achieved. In 48 hours since the launch of our chatbot on the Ministry's website and Tarassud mobile application, it was used by 4 310 citizens. And it's still growing every day. Our Actionbot proved itself to be a helpful tool for Omanis, looking for information and comfort during a crisis. We're glad that we could help people, especially in such matters.
Our chatbot was extended with providing information about:
Current GCC, world and specific country statistics,
Self-reporting,
Shops and supermarkets,
Quarantine and isolation.
People were mostly using features regarding coronavirus information, its symptoms, suggestions and complaints, and self-diagnosis.

Actionbot's functionalities
Actionbot is a cloud-born solution available through a plug-and-play API, compatible with any website and mobile app technology. It can be ready for implementation in just four weeks, but in this particular case, we used basic functionality. That's why we managed to do it even quicker – the working solution was put up in just two days.
The complete Actionbot solution's main advantage is its ability to interact with the website. It combines context, universality and actionability as the ultimate features of the whole digital experience. The context is something that makes Actionbot genuinely unique. Our AI chatbot reacts to actions taken by the customer and performs operations, i.e. filling in a form based on the conversation right before the eyes of the customer.
Chatbots and their meaning these days
Creating useful solutions during such difficult times is essential. One of the previous examples of using our service for a higher cause was TASIL's help when a Mecunu cyclone happened in Oman. This time it was also crucial to act quickly. As most of our lives are now being kept online, we need to have tools that will be able to help us. That's why chatbots and their meaning is such a crucial part of digital strategy for any major company.
People are not only seeking information from the chatbot but also they need some kind of consolation. They are seeking digital sources of mental health or even physical health support. Chatbots and apps report an increase of users that are looking for much-needed help. Given the current circumstances and the demands of social distancing — it makes sense that people turn to remote sources for any kind of support.