IBM – inspiring people to think
17th September The Vodka Museum turned into a Polish San Francisco and hosted the biggest IBM conference in Poland. Think Summit gathered people from technology, art, design, science and even gastronomy to share perspectives and infuse ideas. We've heard about environmental changes, ethics and staying competitive in the ever-changing world. But most of all, we've heard about technology and how it can help to keep the world sustainable and keep developing.
Digi Car – innovating and digitizing processes
Digital transformation, as a vital element of today's world, was the leading topic of our joint presentation with one of our clients. Marta Kozłowska, Product Owner from Santander Consumer Multirent and Michał Żuchowski, our Digital Transformation Leader did a great job in showing how an open and agile approach to delivering a complex project can bring real value. Digi Car's goal was to optimize and automate all of the sales process stages, enable the quick introduction of the offer to the customer and, of course, increase in sales. The project's first phase is already in the market, shortening the completion of a leasing process to only 2 minutes.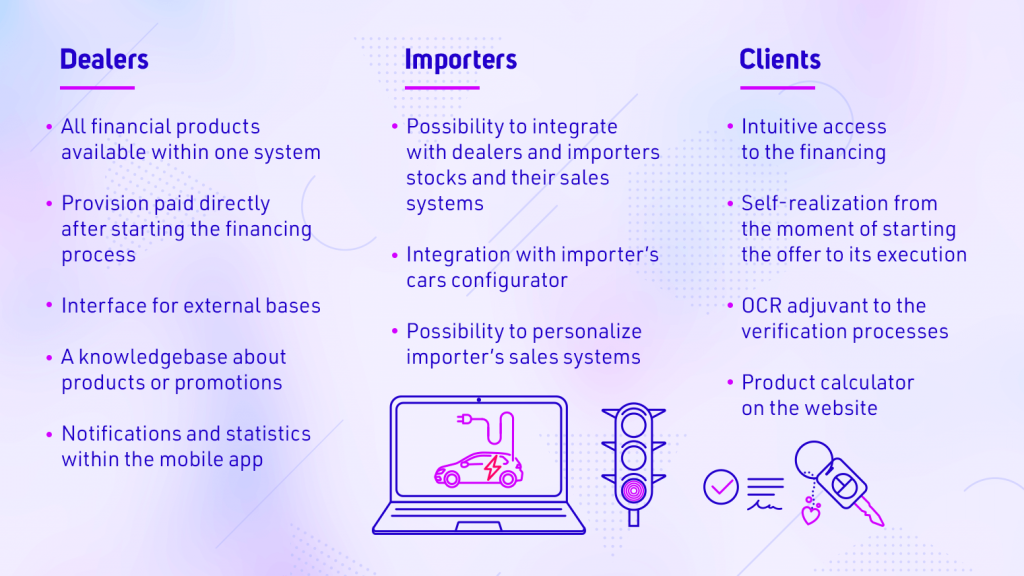 We do not stop here. Apart from working on the next phases, we presented our fully functional vision of the future of communication with customers. We have injected an intelligent bot (we call him "actionbot", you will hear some more soon) into the leasing process. Thanks to AI and NLP algorithms, our "actionbot" offers its assistance to the customer. How? It reacts to the user's actions within the portal and automatically completes the form based on chatting with the customer. He can respond to what the customer does in the portal and propose to him some additional services, upsell or simply tell him more about products that are not that easy to understand.
The best about "actionbot" is that it is a ready-to-implement solution that integrates with any application or website in no time. He makes complex products easy to understand and enables the introduction of new functionalities that were not initially designed in the channel. It can become an intelligent, commissionless assistant that can up-and cross-sell with ease. He is ready to learn, will remember everything, never goes on vacation and will not ask for a raise.
Chatbots and their future
Talking about chatbots, our Chief Technology Officer, Tomasz Kostrząb is the best in many things, chatbots being one of them. So he was the one taking part in a debate on the future of this technology during THINK.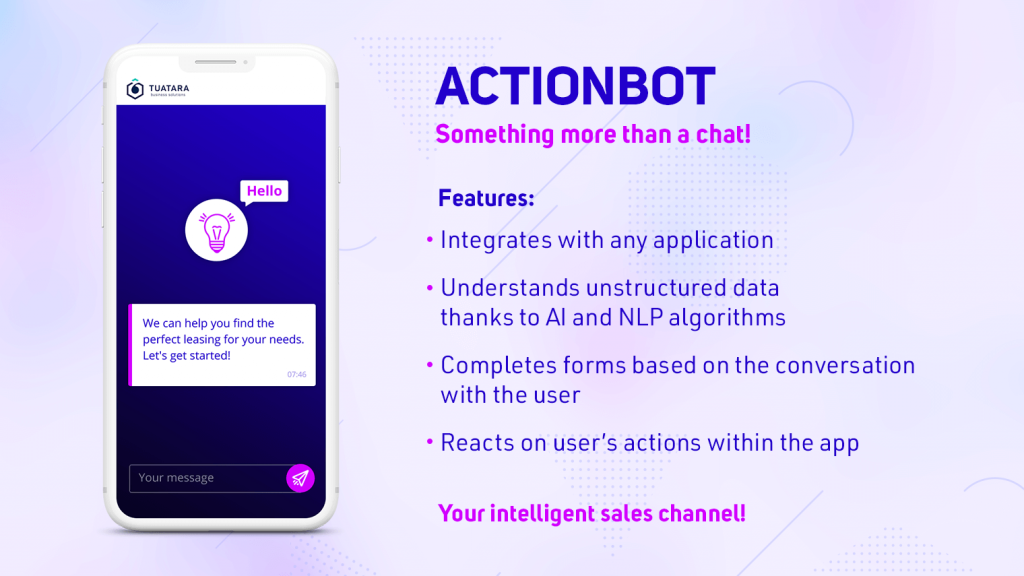 Tomek shared his private and business experience with chatbots and voice bots and raised a couple of challenges, one of them being understanding colloquial speech and transcription in Arabic. Focusing not on chatbots that are created to entertain but on those that are brought to life to increase the client's revenue was what he is most passionate about. Actionbot is an example and a perfect implementation of the idea.
Have a look at an example of a portal integration, where the actionbot interacts not only with the customer but also with the portal elements and performs actions for the user (Polish Client).
The basic version of our solution proved itself to be a helpful tool for Omanis looking for information during a crisis. And we managed to implement it in just two days! If you want to see our Actionbot in action, read this post.
Stay tuned or reach out to us to know more.