Challenges of the distribution industry
The distribution industry faces many challenges: population growth is not keeping pace with GDP growth, we are all working longer, labour costs are rising, but productivity growth is slowing. This situation is compounded by local conditions such as inflation, wage pressure, and staffing difficulties. All this means that the distribution industry has to look for new solutions to meet these challenges. Automation can be an answear, not only increasing efficiency but also helping companies to adapt better and faster to ever-changing market conditions.
It is worth mentioning that, in addition to constant market pressure, the industry has to cope with increasing competition and rising customers' expectations. They are becoming more demanding, expecting faster delivery, greater transparency and better service. Distribution or logistics companies must therefore not only increase their efficiency but also continuously invest in innovations.
During this year's congress, Marcin Kulczyk, Business Automation Leader at TUATARA, and Tomasz Rzeźniczak, CEO of 4Semantics, a TUATARA Group company, presented our idea for automation, using cognitive technologies, artificial intelligence and natural language understanding mechanisms.
Modern Distribution Congress – automation as a solution
Automation, understood as the support of humans in performing tedious, repetitive tasks such as filing documents, preparing and handling documentation or processing orders, can bring enormous benefits. Thanks to it, companies can increase efficiency, reduce costs and meet the growing demands of the market. Automation also helps them to understand their customers and deliver a better service to them, which is key to staying competitive.
Not only distribution companies can benefit, but also – and perhaps particularly – their customers. Thanks to faster and more efficient processing of tasks, they can receive services faster and at a higher level.
Automation is not just technology, it is first and foremost a solution to business problems. It allows us to do more, faster and better. By automating customer service processes, we can increase the efficiency of our work, reduce costs and better meet the growing demands of the market. Marcin Kulczyk
Business Automation Leader at TUATARA
TUATARA solutions
Cognitive technologies, including cognitive automation, are advanced tools that mimic human behaviour using skills typical of human perception. Unlike the simple automation of repetitive tasks carried out by RPA (Robotic Process Automation), cognitive technologies are able to learn and optimise processes and use unstructured data.
Instead of the manual 'clicks' used in RPA, cognitive technologies apply mechanisms that understand natural language and support decisions based on sophisticated models. As a result, the range of tasks that can be automated is much broader and the business outcomes are clearer. As a result, cognitive technologies create solutions that realistically support the user in their daily work without requiring programming knowledge. Tomasz Rzeźniczak
CEO, 4 Semantics (TUATARA Group)
We discussed more than just theory. During the Congress, we presented how automation can help, for example, in handling the thousands of financial documents that arrive at a company every month. By automatically downloading (or scanning), documents from e-mails and then categorising, verifying and assembling them into the required form, it is possible to instantly extract the information necessary, for example, to run billing processes in the ERP system. This not only speeds up processes, but also minimises the risk of errors that can lead to serious financial consequences.
We also talked about how to effectively automate processes in the customer service office. Automation helps to handle large volumes of requests and correspondence with customers regarding the purchase and delivery of products. By automatically classifying the case category and the customer's intent, it is possible, for example, to extract the information needed to deal with the case from the content of the email.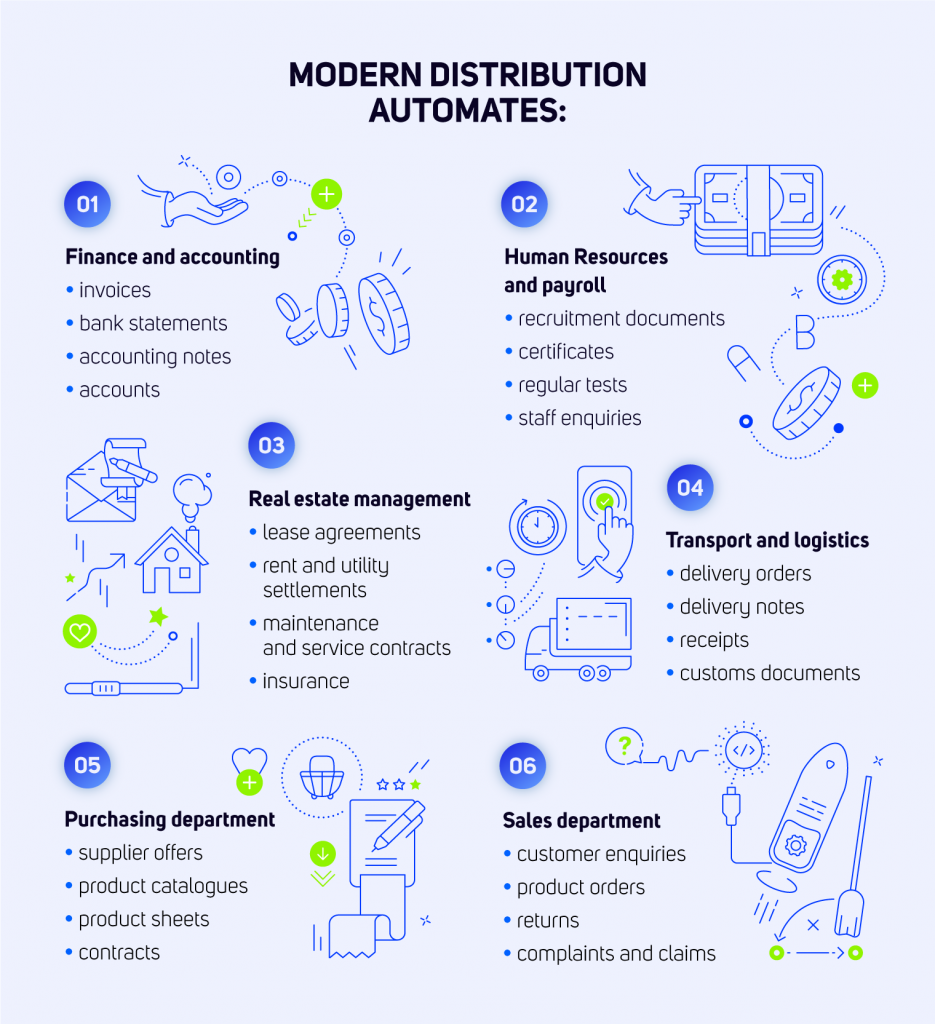 The third example was about product catalogue management. Tomek Rzeźniczak, CEO, 4Semantics presented how automation can help handle up to hundreds of thousands of products available on an e-commerce platform. By automatically extracting information about a product's features directly from its text description and using this data to maintain the product catalogue, it is possible to automatically categorise products. This not only makes assortment management easier, but also helps companies to better understand what products are most popular and what their customers' preferences are.
Read more about cognitive technologies: Cognitive automation – the next step in process automation
Conclusions and the future
With modern process automation solutions, companies in the distribution industry can meet growing challenges and compete effectively in the market. The Congress showed that technology and innovation are key to the future of the distribution industry, and companies that can use these tools effectively will have a competitive advantage in the years to come.
Automation and cognitive technology are tools that can transform the distribution industry, and TUATARA is at the forefront of these innovations. With its solutions, TUATARA helps companies to increase efficiency, reduce costs and better meet the growing demands of the market. The Modern Distribution Congress 2023 was the perfect opportunity to see these solutions in action and learn more about how they can transform the distribution industry.