Introduction to AI and its impact on businesses
AI is bringing a significant shift in business perspective, enabling companies to accelerate, optimise and innovate their operations. Its ability to analyse data, predict trends and make autonomous decisions is crucial for the future of businesses, setting new standards of efficiency and customer alignment.
AI is no longer just a concept of the future. It is present in all aspects of business, making a difference in marketing, sales, customer service, supply chain management and much more. Its applications are diverse and effective, from automating routine tasks to analysing large data sets to predicting future market trends and customer behaviour.
Strategic aspects of AI implementation and its practical applications
AI implementation is more than just technology. A strategy must be closely aligned with a company's business goals. Developing an AI strategy requires many aspects to be considered, including the availability of data, the ability to attract talent, ethical considerations, and an organisational culture that fosters innovation and change.
A deep knowledge of business processes and the ability to adapt the technology to the specific requirements and goals of the organization should be rudimental for an effective implementation and use of AI. Such can guarantee success, backed by tangible business benefits such as:
AI in Finance: Improving forecasting and risk management, optimising trading algorithms, automating financial processes.
AI in Sales: Supporting sales forecasts, personalising offers, and automating customer interactions.
AI in Customer Service: Automated response systems, chatbots, sentiment analysis and improving customer experience.
Your way to practical AI implementation with TUATARA
From the very beginning of TUATARA, we knew that we had to offer not only technical expertise, but also the ability to translate it into business language and tangible, measurable benefits. AI offers real opportunities for business, but it must be understood that it is not a panacea for all challenges. Correct implementation, right model selection, proper training, and thoughtful integration with existing processes are crucial. These all require a deep understanding of the business and multi-disciplinary capabilities.
An in-depth understanding and practical application of AI in a business context requires a thorough analysis of the resources, the technologies used, and – above all – the purpose for utilization of AI, machine learning, or cognitive technologies. At TUATARA, we are convinced that practical applications and real business benefits should be taken as the foundation on which a plan for implementing AI in a company is based.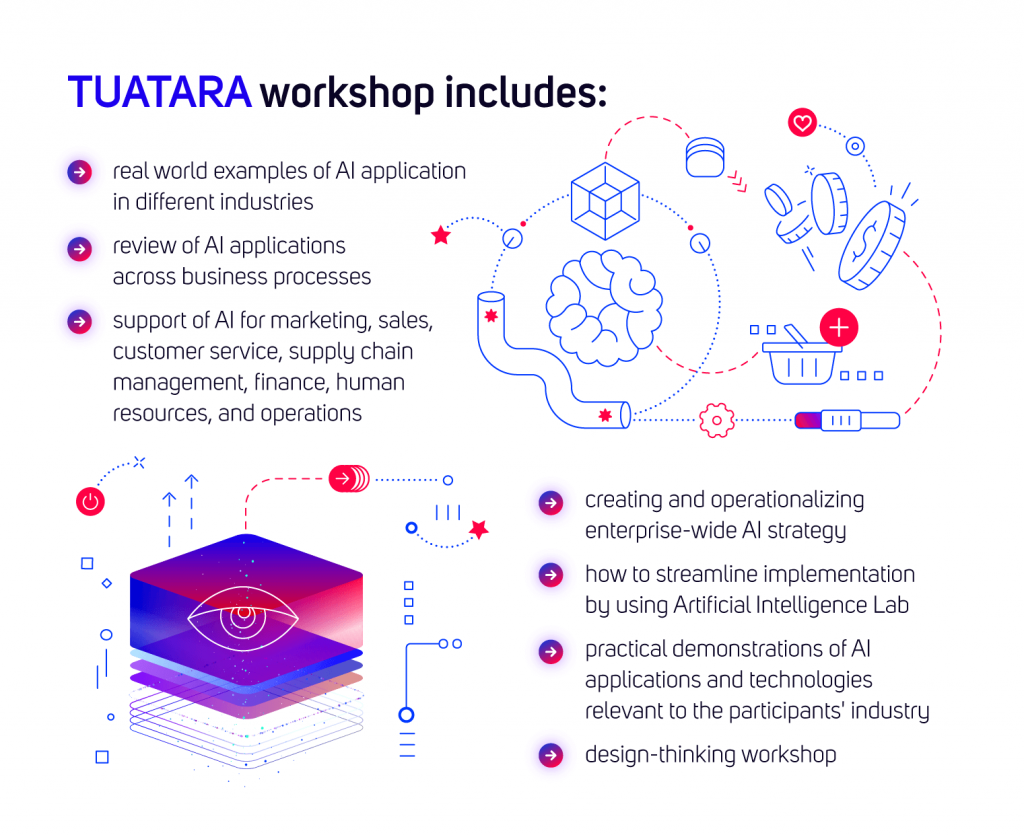 That is why, before working with any client, we propose to organise a workshop, with the participation of those company representatives whose work can be streamlined, automated, or simply facilitated by solutions related to the broad topic of AI. During such workshops, we establish the goals and principles of cooperation, but from the very beginning, we review together the importance of AI in the company's global business context. Then, together with the client, we explore the basic concepts and benefits of different types of AI technologies, review examples of applications in different industries, and determine how theoretical concepts can be applied in practice, in a specific company.
The workshop is also a great opportunity to create an outline for an AI strategy and its operationalisation at the enterprise level. TUATARA experts guide participants through the steps of developing an AI strategy, from establishing clear goals to balancing them with the enterprise's business objectives. They also present practical demonstrations of AI applications and technologies, providing them with first-hand experience of AI tools, platforms and algorithms that can be applied to their own company.
An important element of each workshop is a discussion of the creation of an 'AI lab', a concept that encompasses infrastructure, software, models, and consulting and analytics services, all to streamline and accelerate the adaptation of technology, tailored to the specific and individual needs of an organisation.
How to book a workshop
Join us for a collaborative workshop where we will analyse your processes, help you identify areas of possible support by AI technologies, and design solutions tailored to your specific organisation and challenges it is facing. Let the technology work for you, with a focus on practical, valuable solutions.
Contact us to schedule a workshop and discover how the practical application of AI can bring value to your company.